The Right Revd Martin Seeley is the Diocesan Bishop of St Edmundsbury and Ipswich. As such, he is the senior clergyman in the diocese, spiritually responsible for the 'cure of souls. Suffragan Bishops are appointed by the Diocesan Bishop to assist him in his duties and our Suffragan Bishop of Dunwich is the Right Revd Dr Mike Harrison.
Our Bishops | Weblink
An Archdeacon supports the bishop in ecclesiastical matters and is responsible for a specified geographical area (an archdeaconry) within the diocese.
Our Archdeacons | Weblink
The Revd Canon Joe Hawes is the Dean of St Edmundsbury. St Edmundsbury Cathedral, in .Bury St Edmunds, is a separate charity with approximately 30 members of staff, hundreds of volunteers and regular worshippers. The Cathedral hosts a wide range of events and welcomes over 70,000 visitors a year.
St Edmundsbury Cathedral | Weblink
Every community is served by a parish. These vary in size depending on whether it is in a rural or urban area. We group our parishes into larger areas, called deaneries. Each deanery is overseen by a Rural Dean and Lay Chair. Deaneries are grouped into three Archdeaconeries and the map shows where each deanery is found.
Diocesan Map | PDF
Rural Deans and Lay Chairs | Weblink
The Diocesan Board of Finance (the DBF) is the charity responsible for managing the assets and finances of the diocese to support and enable the mission and ministry of the parishes. It includes the work of the Diocesan Board of Education. The charity's trustees include the bishops and archdeacons, amongst others:
| | |
| --- | --- |
| Role | Contact details |
| Director of Mission and Ministry | The Revd Canon Dave Gardner | 01473 298500 | 07731 442423 |
| Diocesan Registrar | 01473 406270 | Birketts, Providence House, 141-145 Princes Street, Ipswich IP1 1QJ |
| Diocesan Secretary | Gary Peverley | 01473 298575 | 07879 634525 |
| Diocesan Director of Education | Jane Sheat | 01473 298570 | 07884 232231 |
Diocesan structure
Our diocesan structure might look complicated at first glance but the diagram below shows how everyone, including our parish churches, all feed in and interlink to Bishop's Council, Diocesan Synod and ultimately General Synod.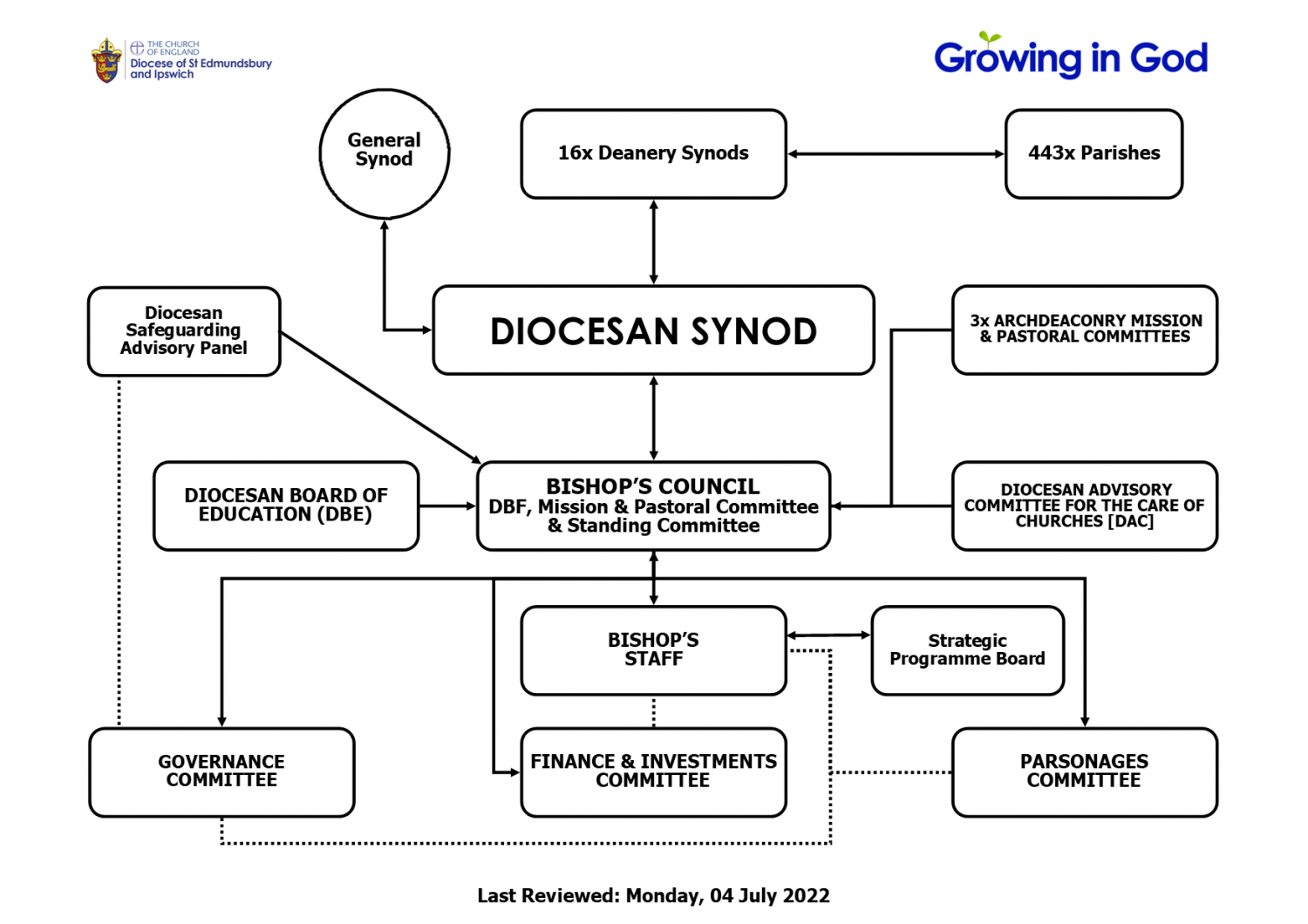 The main committees are shown above however further details are available here:
Committees | Weblink
Download or print our detailed staff structures:
Staff Structure | PDF
Diocesan meeting dates
2023 Synodical Meeting Dates | PDF
2024 Synodical Meeting Dates | PDF
A number of planned meeting have been cancelled and venues have been changed due to the Coronavirus.
Making a complaint
The Diocesan Board of Finance (DBF) views complaints as an opportunity to learn and improve for the future, as well as a chance to put things right for the person that has made the complaint. Please find below a copy of our complaints policy:
Complaints Policy | PDF
Whistleblowing Policy | PDF
If individuals need any help with this process, one of the diocesan lay trustees can be emailed: David Lamming.