Lots of positive news from our schools so far this term. Spring news for Diocesan MAT Schools is also available on the MAT web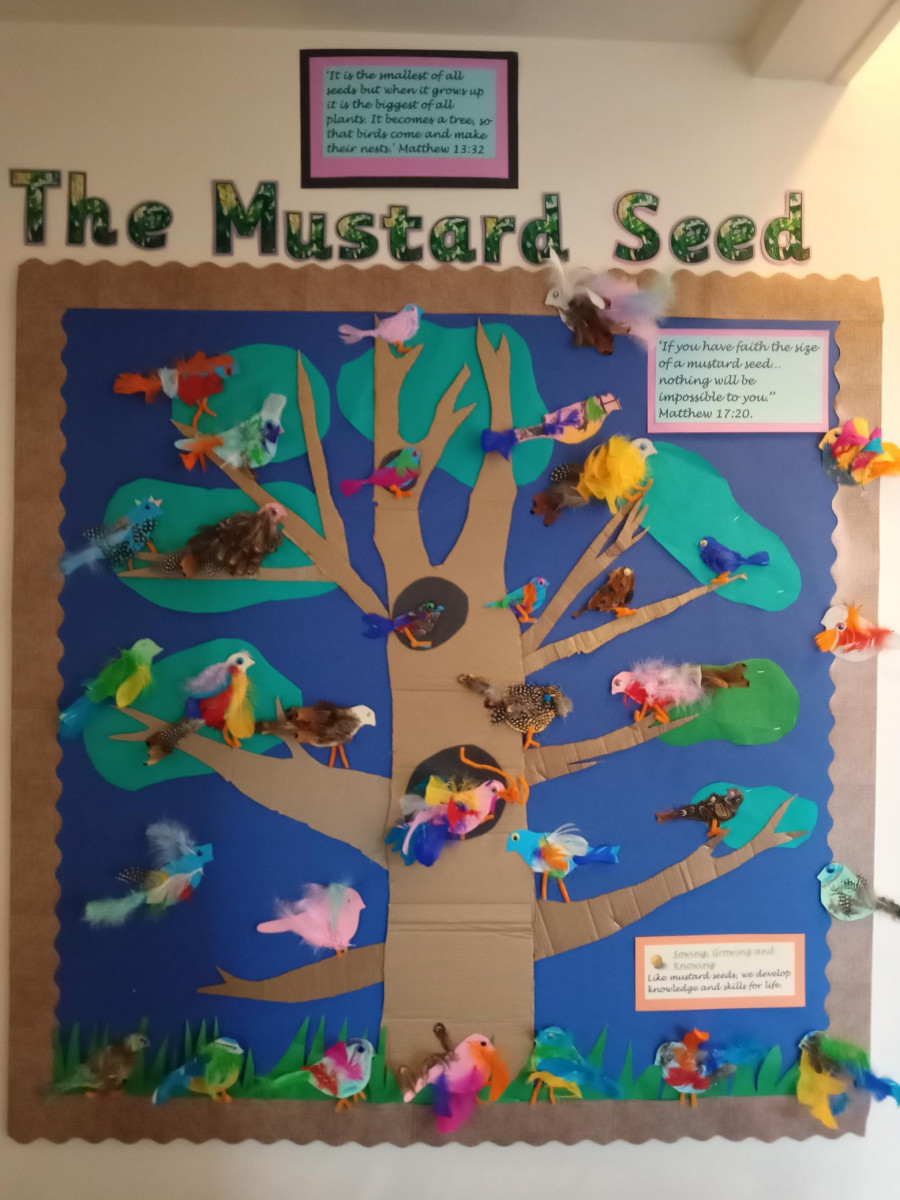 site, please click here.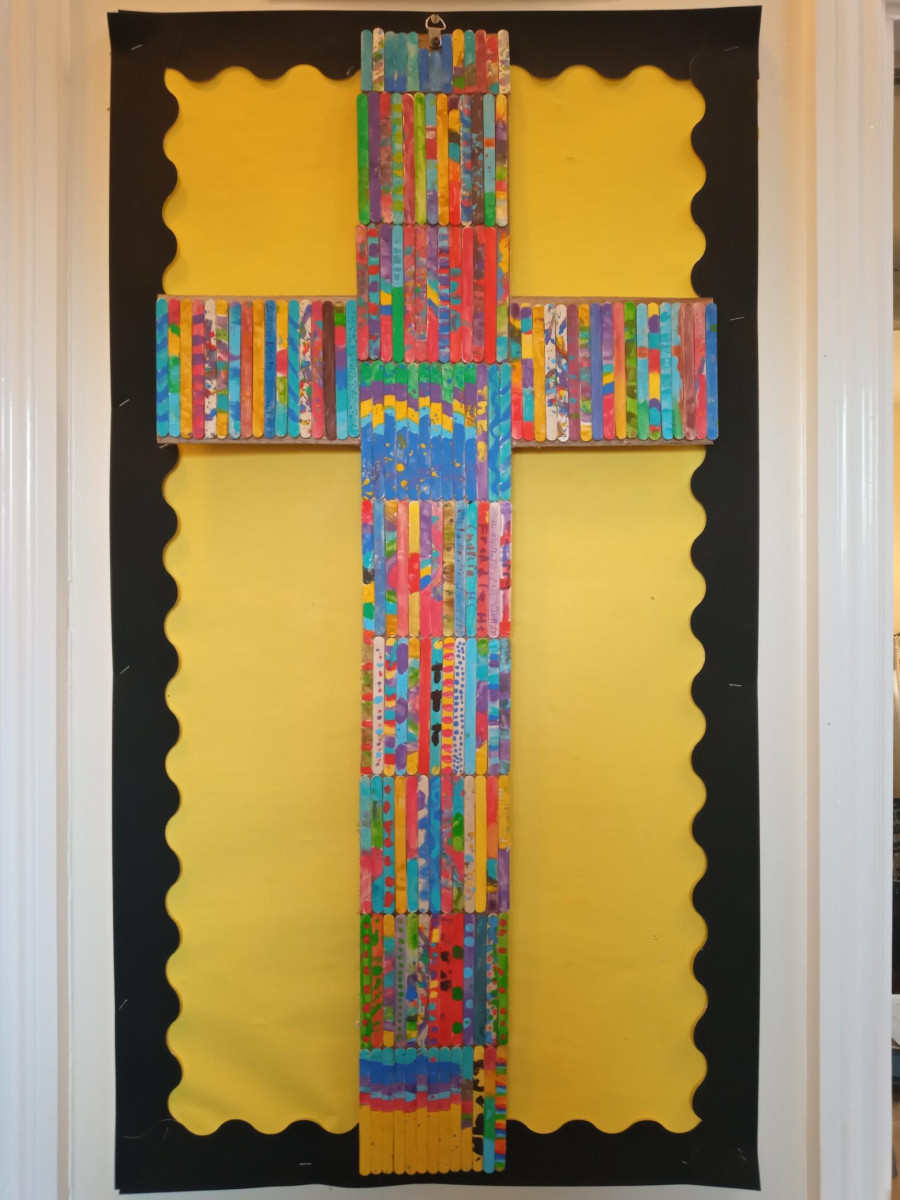 Bedfield CofE Primary School has these lovely displays up in school. The school's vision which underpins the school ethos is encapsulated by the Parable of The Mustard Seed, representing children's individual growth educationally, as well as socially, spiritually and emotionally.
Barnham CEVCP School has a lovely new Early Years and Key Stage 1 outdoor lea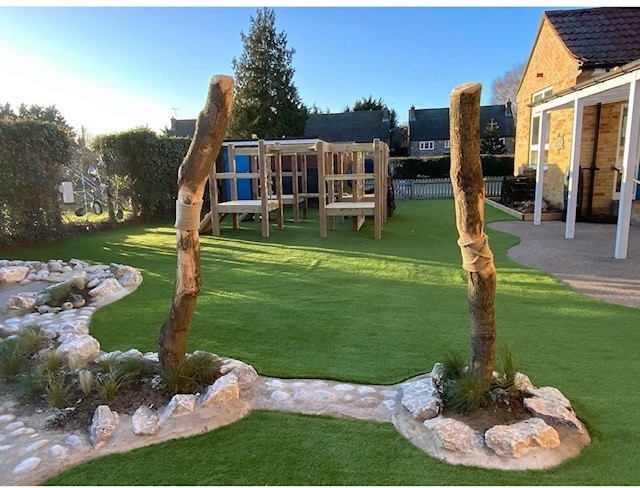 rning area. It includes a dry river bed, investigation tables for weighing and measuring, carabiners and a pulley system to help with the school's design and technology lesson as well as different features to encourage upper body strength.
The school has also recently received a Heritage Schools Award. One of the aims of Heritage Schools is that pupils should understand the links between local, national and international history. Barnham received a Heritage Schools grant to work with an artist, Nicola Marray-Woods and create the amazing timeline which shows how people and events in local, national and international history were connected. For more on how the Timeline was created, please click here. For a selection of photos, please click here. For more on the Heritage Schools programme, please click here.
Parents and carers have sent in money to Bawdsey CEVCP School to purchase exercise books, erasers and pencils for Nkoni Primary School in Masaka, Uganda. Every pupil at the school then wrote a message which they stuck in the front of each book to another child in Uganda. The school hope this will help set up new relationships between the two schools and they are looking forward to getting some photos and messages back soon.
Cavendish CEVCP School is celebrating its 160th anniversary in 2023. Cheryl Wass, Headteacher writes: "The children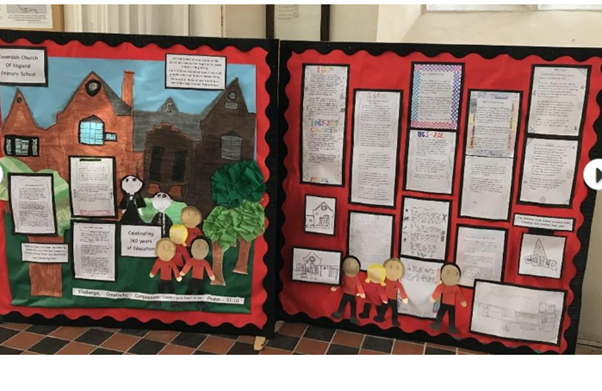 have been researching the history of our school for some display work including looking at the original press release, architect drawings, archive photographs and other records."
The School held a Celebration Church Service in February: "It was wonderful to see so many faces in St. Mary's Church to help us celebrate 160 years of our school. Such an achievement to still be here and still a thriving part of our community, not many can say they reached 160 years! Here's to many more years to come..." Other events are planned including a Celebration Dance Festival & Fete in May.
Pupils at Cockfield CEVCP School have focussed on spirituality in Collective Worship this term: the Wows, the Ows and the Nows.
Trudie Harkin, Headteacher writes: "The children enjoyed a day when they could explore what the word spirituality meant to them. We agreed that it was not something we could see, but what we felt inside. The children were curious and open minded to exploring life's big questions. They used their imagination and creativity, appreciating the beauty in the world.
The oldest children discovered amazing things about nature, a sequence of numbers called the Fibonacci sequence, in flowers, snail shells, pine cones and in all sorts of places. They made calming glitter jars, they identified their favourite calming aromas, and made the Christian fish symbol out of willow, creating textile art by weaving their own fish.
Other classes listened to music and created mosaics to show how it made them feel and their thoughts. The youngest children used parrot puppets to consider how positive, and poisonous thoughts affected them. I was very impressed with their stunning fishes, all of which were unique, and in response to the text Only One You.
A lasting memory was made by enjoying a ring doughnut, a symbol of spirituality for us today. Many filled that hole today with their thoughts and feelings. We took a moment to pray, to Be still and know that I am God. A valuable and memorable day."
East Bergholt CEVCP School had a visit from Bishop Mike in February, Gill Mitchell, Headteacher writes: "Bishop Mike led an act of worship where he shared with the children what it meant to be a Bishop and showed his mitre and cloak to the children. The children were mesmerised, it was a fantastic assembly. After that the Church Council members (5 year 6 pupils) shared some refreshments with the Bishop and also Rev Steph our incumbent, many questions were asked and the children were hugely impressive with their quite deep theological questions which were ably answered by Bishop Mike! The Bishop then had a tour of the school before saying goodbye. The Church Council really enjoyed the visit and we have sent a letter of thanks to the Bishop's Office in Park Road."
Pupils at Elmsett CofE Primary School have been learning about recycling and what happens to the waste that cannot b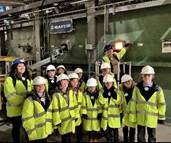 e recycled. KS2 pupils visited the Energy from Waste (EFW) site at Great Blakenham to find out what happens to black bin rubbish which cannot be recycled. The school writes: "We were amazed to see the huge grabbing claws in the massive vats which stir up the waste which is deposited by the bin lorries that collect from our houses. They do this to make sure the rubbish doesn't cause a fire. We looked at the 1000c furnace and climbed up inside the building you can see from the road. We also had an educational talk and then had a go at making our own energy by cycling. We then played games to help us understand how our rubbish can generate energy. Finally, we looked at the waste metal collection area where metal is recovered and sold on. We all had a fantastic day and learned so much. We are all going to be so much more careful about how we recycle and what we throw away now!"
Gislingham CofE Primary School has a new one mile running track for use by the children and also the local community. The track was officially opened by paralympian Hetty Bartlett last month. The school's PTA organised a sponsored run at the event, which raised nearly £2,000 for sports equipment at the school and for the SportsAid charity, which will help fund the training for Hetty as she prepares for the Paris games. For more on this story, please click here.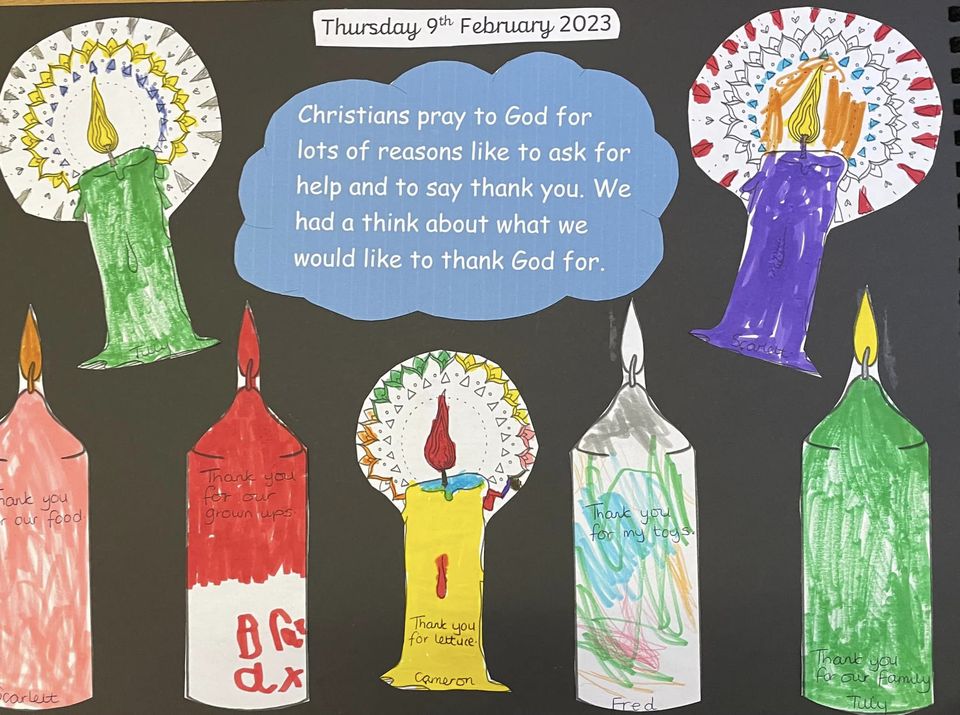 Pupils at Honington CEVCP School thought about what they would like to thank God for and created this lovely display.
Isaac at Orford CEVAP School represented the school at the Lent church service on 19 Februa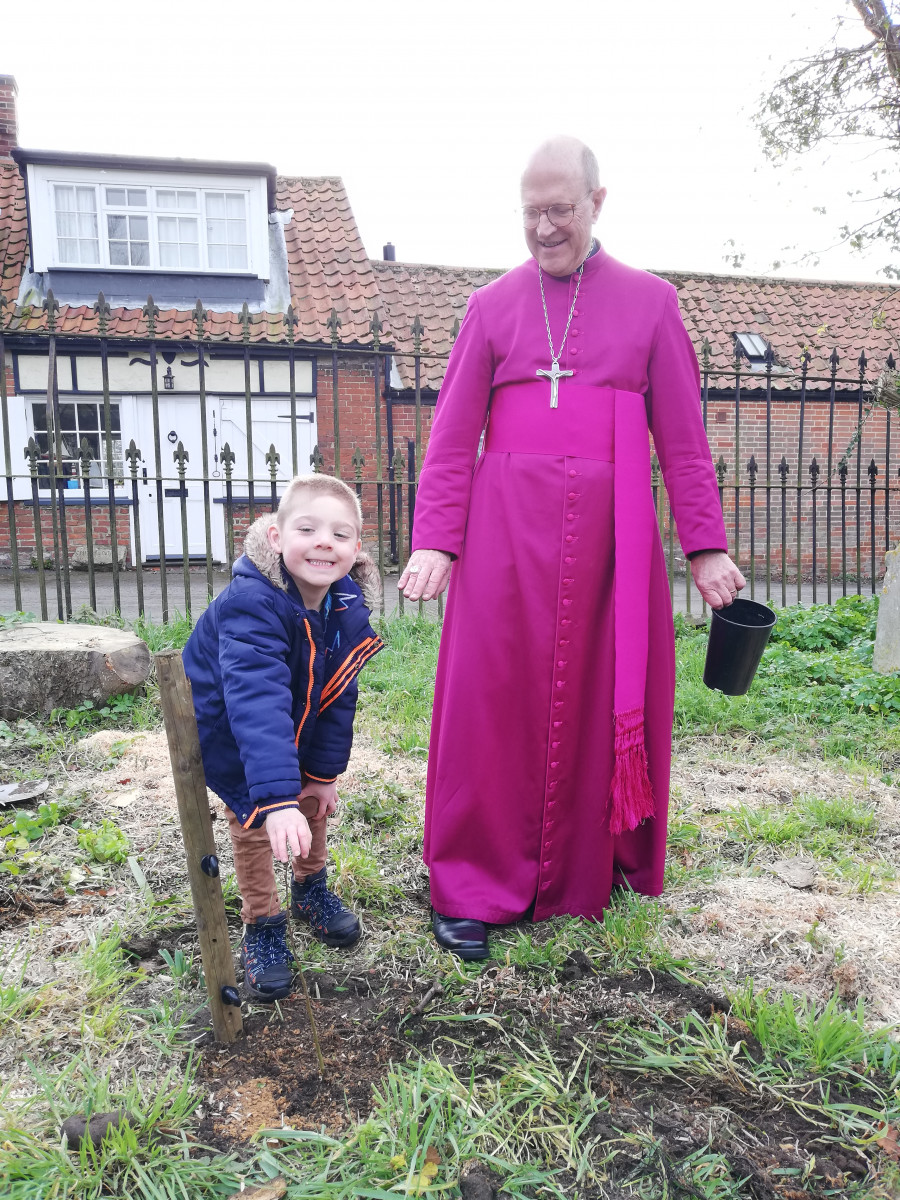 ry, planting the tree with Bishop Martin in the church grounds. Gemma Cannon, Acting Head writes: "The school was also kindly given their own tree by the Bishop. Class 2 (years 2 and 3) planted it in our prayer garden, which doubled up as a task for our silver RSPB wild challenge!"
St Christopher's CofE Primary School, Red Lodge has received a beautiful, anonymous piece of art work.
Mrs Simpson, School Secretary writes: "I was contacted by a local Artist who has a passion for books. The conversation they had was of how books open up a whole new world to children and that sadly only 1:5 children personally own a book at home. At the end of the call, the Artist asked if we would be interested in having a piece of work carried out as a gift by them on the strict understanding they remain anonymous. Obviously, the opportunity of such a gift was jumped at.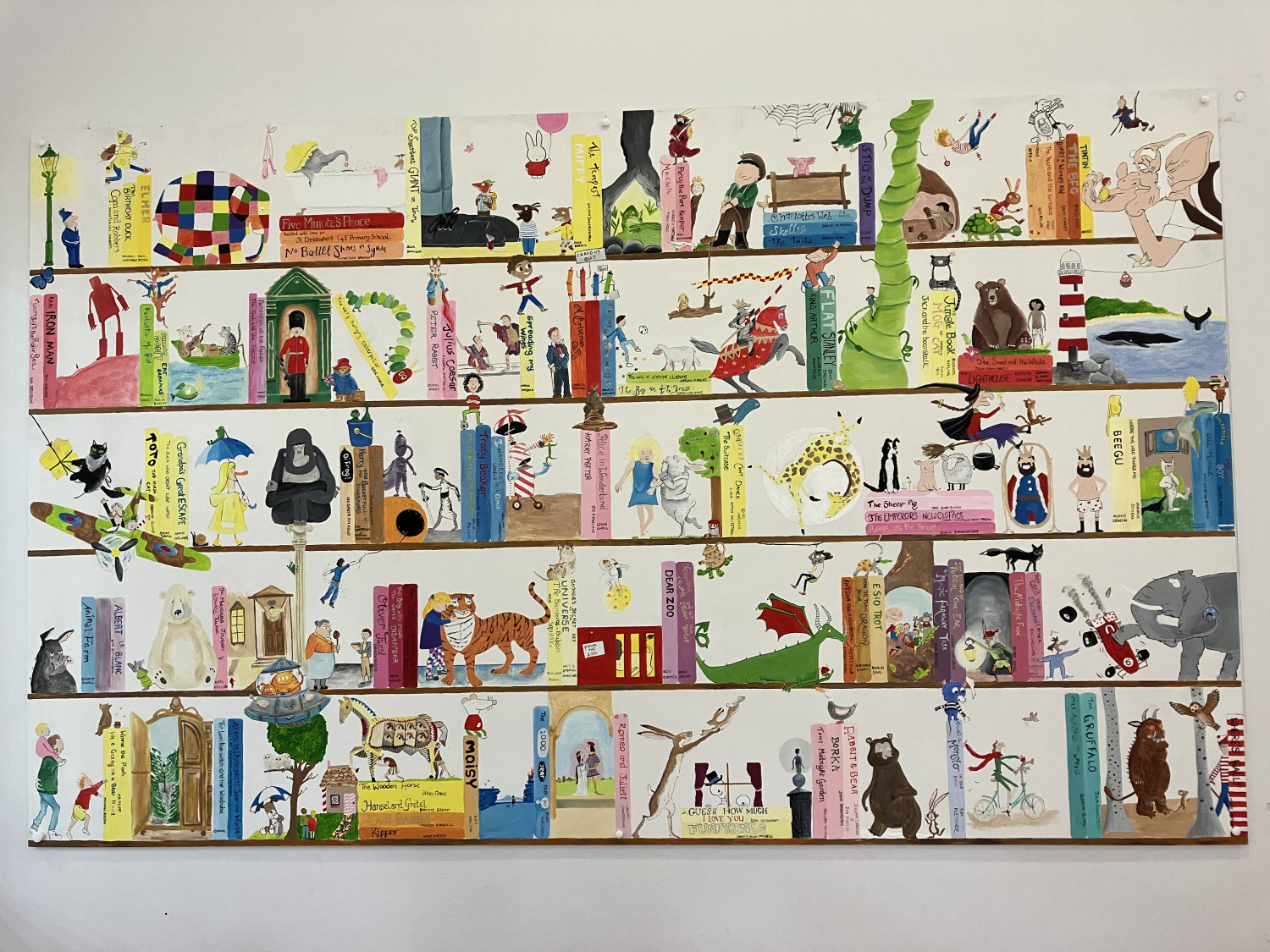 The anonymous Artist requested a list of books we would like to have on the board. The Artist was furnished with a list of 49 books, all additional book titles were chosen by them. In the end a total of 97 books were illustrated on the board. There is a most wonderful book on the top shelf entitled 'Painted with Love for St Christopher's C of E Primary School'. The Artist informed us that Wicks had kindly donated the board when they heard of the wonderful work being undertaking.
The Artist kept in weekly contact with Mrs Simpson and kindly provided photos of the progress being made of the art work. We arranged for the day of the great reveal to take place at our Celebration Assembly held on Friday, 18 November 2022, Children in Need Day. PC Richard Smith #1166, Community Engagement Officer kindly represented the Anonymous Artist.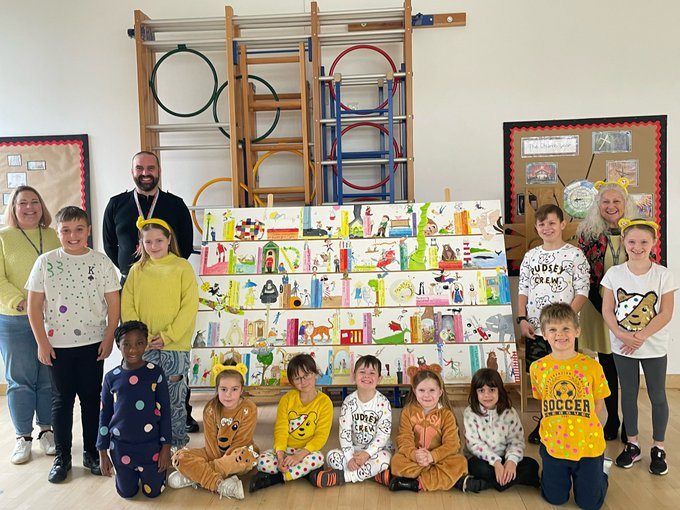 As the reveal was undertaken there was great excitement among the children (and staff) with 'oohs, aahhs' and finally, with rapturous applause echoing around the Hall. It is truly an amazing work of art and one, that each time it is revisited, reveals something new and exciting to process." The story was also featured in the East Anglian Daily Times.
Mr Woodrow, Headteacher at St Gregory CEVCP School, Sudbury featured on the Luke Deal Show, Radio Suffolk on 17 March, talking about the school's joke competition for #ComicRelief and how #RedNoseDay is a brilliant way for the children to showcase their natural kindness and sense of fun and make a difference to those in need both here and around the world. To hear the feature, please click here.
Pupils at Stonham Aspal CEVAP School created lovely 3D collages. The school writes: "We had a visit from the 'Art Solutions' team, who spent four days in school. They worked together with all the children from years 1-6 to create 3D collages showing our Christian Values. The children were taught basic skills, using newspapers and tissue paper. Once the children had learnt the skills needed to create the display, they began to build their part of the picture. Either working in a small group or with a partner, each person had an important piece of the display to create. Once all the smaller parts were completed, they were put together by the Art Solutions team, creating a huge masterpiece. These are now displayed around our school. They are a great addition to our school, and you can clearly see the hard work, determination and effort that all the children put in to create these wonderful displays." To see all five displays, please click here.
Pupils at Tudor CofE Primary School, Sudbury decided to hold a whole school sponsored teddy bear picnic in aid of the Red Cross to help the organisation's emergency appeal for Turkey. The picnic raised more than £600. For more on this story, featured in Suffolk News, please click here.
Pupils in church schools have recently taken part in concerts:
Debenham High, Eyke CofE Primary, Orford CEVAP and Thurston CofE Primary Schools took part in the Celebration event at Snape Maltings at the beginning of March; and
Acton CEVCP, Chelmondiston CofE Primary and Tattingstone CEVCP Schools performed in the Young Voices Concert at the O2 arena in January 2023.