We invite you to explore and celebrate God's generosity
National Generosity Week runs from 24 September to 1 October 2023 and helps us all to celebrate the generous love of God. Our churches are invited to hold services, run group sessions, broadcast podcasts, and distribute readings on the theme of generosity to their communities.
"We have received overwhelmingly, so let us give generously" - Archbishop Justin Welby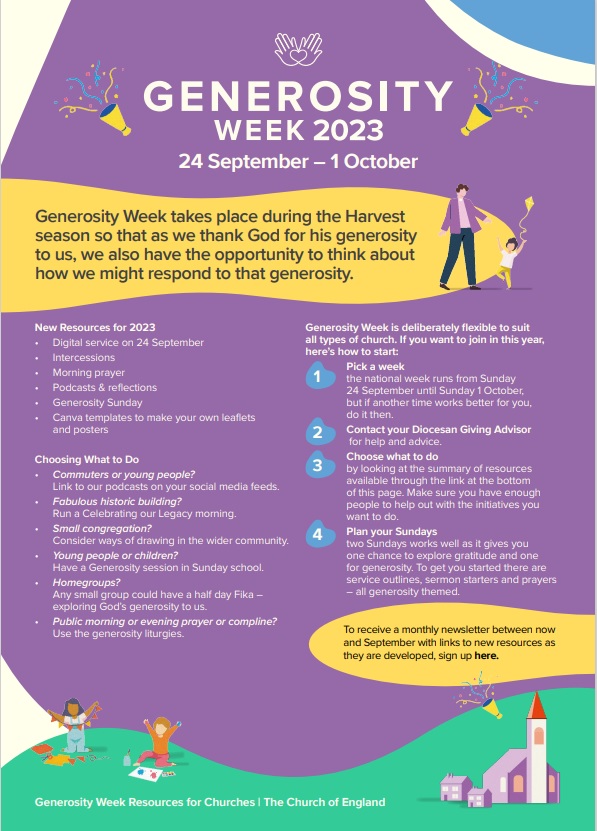 Generosity can be shown in many ways, through everyday acts of kindness to those in your community, helping and serving in your church, as well as financial giving.
We would like to encourage you to have a look at the national resources available for Generosity Week - the purpose is to encourage a generous culture within churches, so that churches can grow their ministry for generations to come. They have produced a new series of week-long resources (Sunday to Sunday) to encourage people to live generously. The materials enable you to deliver your own Generosity Week at times suitable for you.
Generosity Week 2023 poster | pdf
The national Generosity Newsletter
The National Giving Team will be offering a newsletter for a limited time only to help you get ready for Generosity Week 2023. It's very short, and if you sign up, you'll receive it every Wednesday only until the end of September ... and then it will stop!
Sign up to receive it in your email inbox.
Generosity Week Newsletter | PDF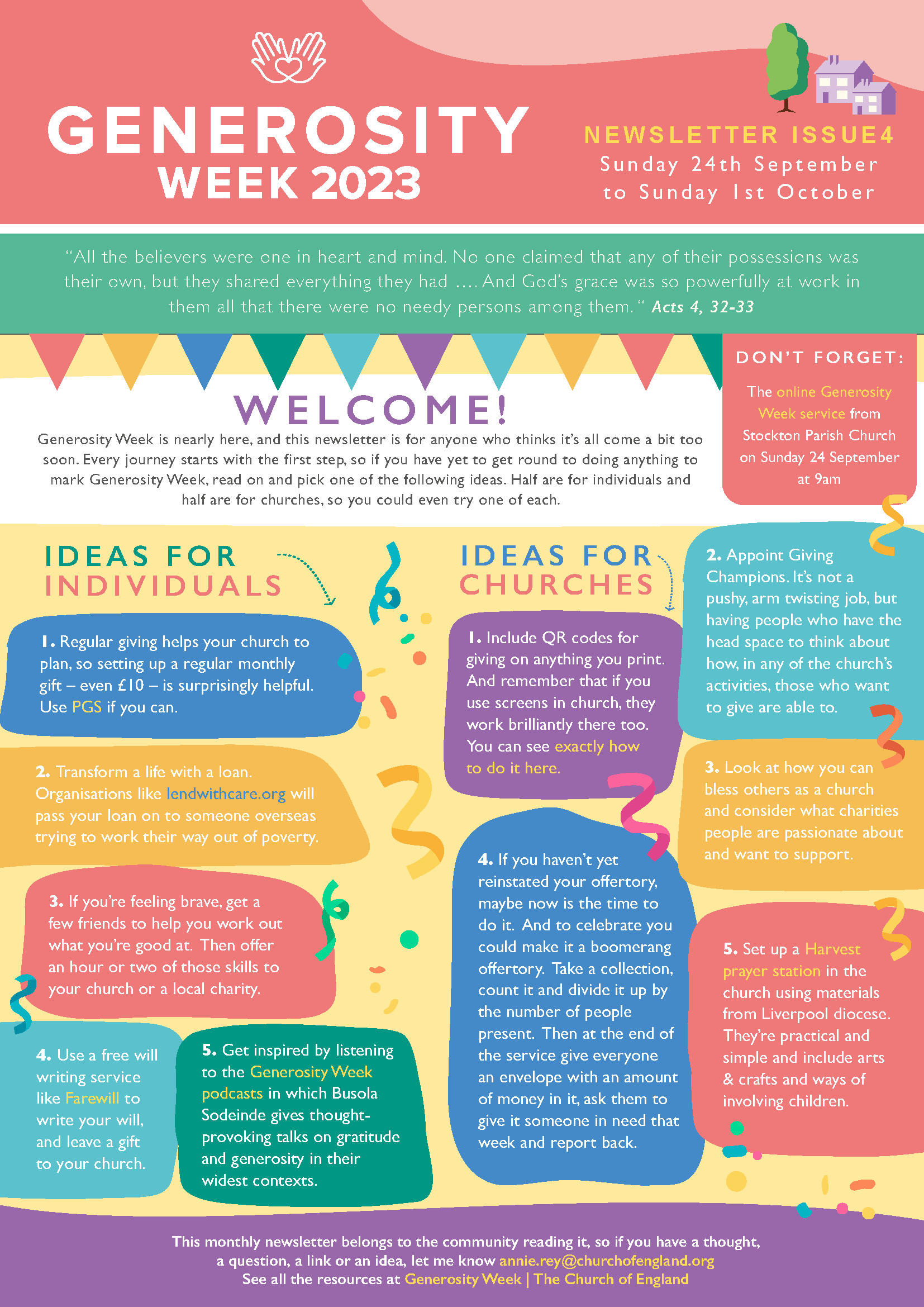 PGS and Generosity Week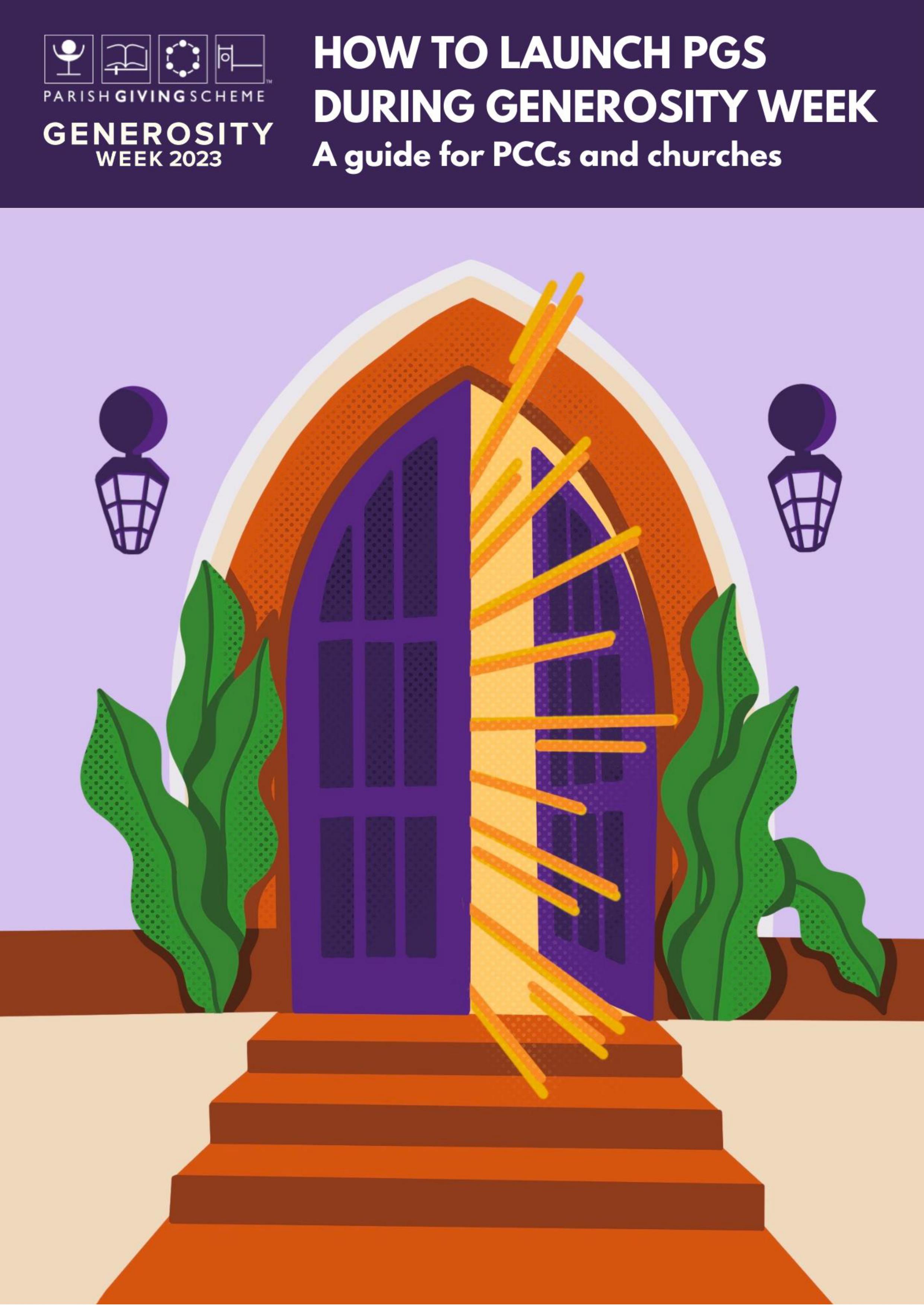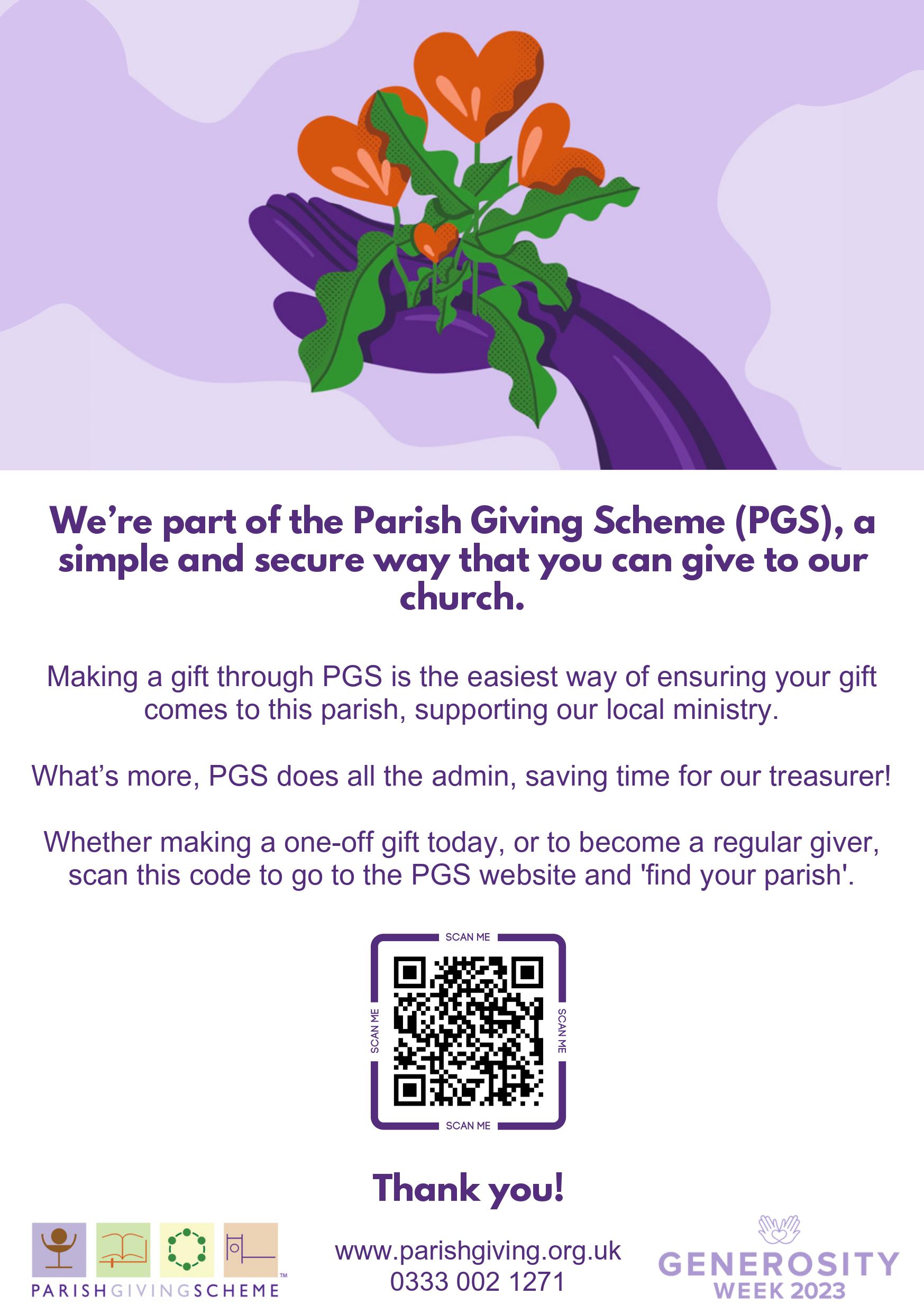 PGS have created an updated 'Guide to Launching PGS during Generosity Week', as well as a digital flyer aimed at givers. These resources are available to download below, and on the PGS website here.
Guide to launching PGS during Generosity Week | PDF
PGS Generosity Week Flyer | PDF
Customisable PGS Generosity Week Flyer | Word doc
Podcasts, reflections and services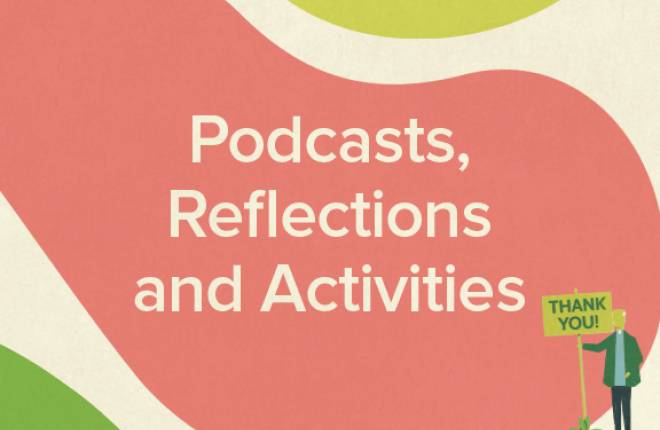 A core part of the resource materials are a series of podcast reflections for churches to encourage individuals to listen to. These podcasts explore generosity in the Bible through a Bible passage, a key verse from the passage and then a reflection by a range of contributors from across the country and the Church of England. Contributors include the Bishop of Loughborough, the Rt Revd Guli Francis-Dehqani, Bishop Rose Hudson-Wilkin, Revd Harry Steele, Rachel Mander, Phil and Dani Knox, Fr Paul Thomas, Hazel Lynch and Robin Peake. Podcasts are available to listen to on Spotify, Google Podcasts and Apple Podcasts and are available here:
Podcasts | Weblink
Generosity Week can be adapted for all traditions of The Church of England.
Resources
Resources for 2023 are available here, including service materials and resources for young people. Explore the Generous Church Review here. The summary below may help you get started with your Generosity Week (click on the image to view and download it as a PDF).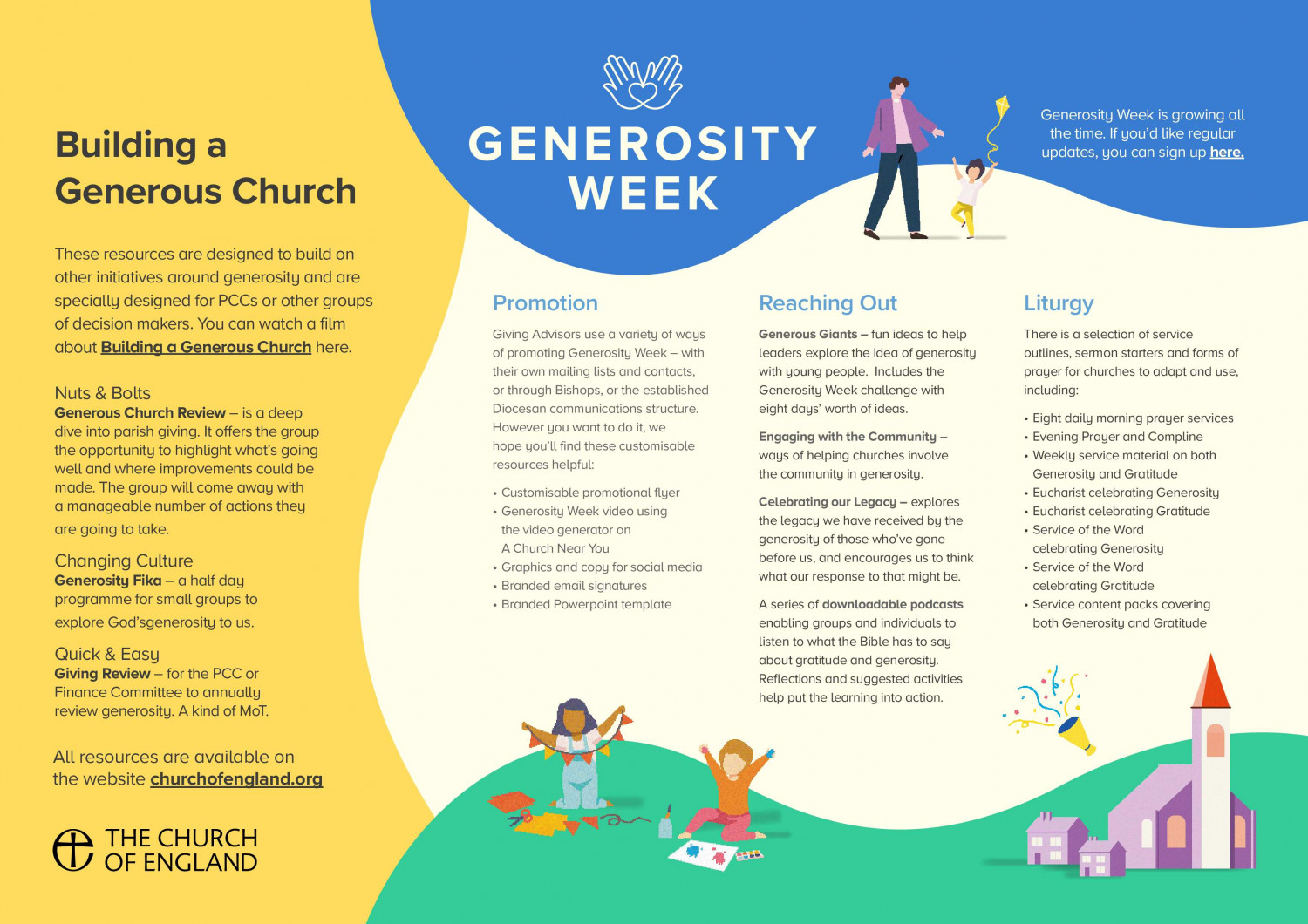 ---
Watch the 'How to run a generosity week' Webinar
Join Joanne Christie from the Diocese of Newcastle and Trevor Marshall from the National Giving Team.
How to do a Giving Review
A Generous Church Review is a simple way of ensuring your church is heading in a positive direction with your finances and giving practice. To be undertaken by a PCC, giving or finance sub-committee, or even a specially formed group setup for specific task in hand, the review will act as an annual check-up of your 'giving health'. It focusses on celebrating successes and identifying areas of improvement and is designed to create a plan for the coming year, without placing too much of a burden on the leadership of your church.
Review template | PDF
We recommend:
Doing a regular annual giving review.
Send out the review document in advance and ask members to answer the questions as best they are able, before bringing the answers back for discussion.
Contacting your diocesan giving advisor for local support and knowledge - email: Julie Podd Parish Resources Manager | 07826 556186
Towards the end of your discussion, start to highlight one or two action points to undertake during the following year.
---
Generosity Learning Hub
The national giving team have produced a Generosity Learning Hub which is particularly appropriate for clergy and others. It has been well received and contains many resources including case studies from local churches, worship materials (a collection of resources and templates to integrate generosity and giving into services of worship), and inspiring stories that transform our perspective and expectations. Sign up here:
Generosity Learning Hub | Weblink
---
Generosity Fika
A Fika is a half day programme, for small groups to explore God's generosity to us, biblical generosity and generosity around the world. Through short films, reflections and discussion we can be inspired and encouraged to live more generous lives. Fikas can be an enormously effective way of developing a generous culture within your church. Please visit this site for resource materials.
Generosity Fika | Weblink
---
Churches can run The Generosity Week at any time in the year.
---
For further information
For further support please contact Julie Podd - Parish Resources Manager | 07826 556186
or visit:
Contactless Giving | Weblink
Encouraging Giving | Weblink
Explore your vocation | Weblink
Online Giving | Weblink
Parish Giving Scheme | Weblink
Gifts in wills | Weblink
Serving in your church | Weblink