The Parish Giving Scheme (PGS) is a simple, secure and time-efficient way for churches to receive direct debit, and now one-off, gifts and is designed to support churches to fund their mission and ministry from those generous givers within the church and in the wider community. Gifts can be made online, by telephone or by post. The service is freely available to all parishes and givers, and registering your parish is quick and simple.
Over 230 parishes in our Diocese are already benefitting from the scheme, with more than 1,800 givers giving regularly through the PGS, collectively giving nearly £150k (including Gift Aid) each month to their churches. Over £37k (including Gift Aid) has so far been given in our Diocese through the PGS's new one-off giving service since its start in December 2022.
Across 2022, over £75 million was given through the PGS directly to grateful parishes nationally.
Why the PGS?
The scheme helps to build financial resilience by making it easy for a giver to make their regular gift irrespective of whether they are physically in the church.
By processing regular donations and Gift Aid on a church's behalf, the PGS eases the admin burden and improves cashflow.
Givers can give one-off amounts by credit/debit card and Apple/Google pay wallets (transaction rate 1.5%)
Givers can give monthly, quarterly or annually by Direct Debit.
Gives can choose to increase their gift annually in line with inflation. For example, a £10 weekly gift set up in 2010 rising with inflation would have been worth £13 in 2020. This represents an additional £140 per year per giver.
Gifts can be set up online, by telephone or by completing and posting a Gift Form to the PGS. Gifts can be managed online which keeps the giver in control of their gift.
Parishes in the scheme are more likely to see an increase in total planned giving (donations) and gift per giver.
Statement Receivers can view monthly statements securely online and can use the bespoke resources provided by the PGS to promote the scheme on their A Church Near You page, webpage and in parish newsletters.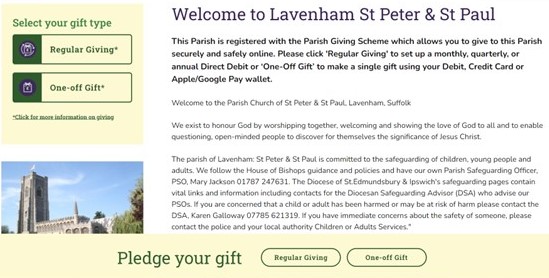 "I'm not quite sure who to thank, but we are incredibly grateful to the Diocese for introducing the Parish Giving Scheme ... It's definitely improved giving in our churches without a lot of effort … everyone finds having the Gift Aid as we go along much easier for cashflow and PCC members generally have reported that it's much easier to give than it used to be..." The Revd Tiffer Robinson, Rural Dean (Lavenham)
Getting Started in Your Parish
Contact Yalda Davis or Julie Podd for a chat and then agree to join at your next PCC meeting or APCM. It's free so there is nothing to lose!
Complete the simple registration form found here and return it to us (with a paying in slip to verify the bank details) by email to pgs@cofesuffolk.org or by post to: Diocese of St Edmundsbury & Ipswich, 4 Cutler Street, Ipswich, IP1 1UQ.
Once registered parishes can use the link to their PGS giving page and the QR code to promote the scheme in their parish. The PGS have also provided resources on their website available to statement receivers which you can find here.
Once registered, the Diocese will send a personalised PDF Gift Form, telephone notice and link to the parish PGS page and suggested wording. You might also want to do a Giving Review and there are useful resources here to help you.
For Givers – 3 easy ways to give
Online: on the PGS website here)
By phone: Tel: 0333 002 1271
By post: use the printable pdf of the Gift form*
Existing donors can manage their regular giving online. Having registered for an online account, they will be able to adjust the amount of their current donation, or change their options for Gift Aid, inflationary increase, or anonymous status. Visit the PGS website here.
*This downloadable Gift Form (2023) replaces the paper Gift Form of 2017 and all previous versions of the Gift Form until 2022, which are out of date and should not be used.
For your Statement Receivers - Key dates and information for receiving funds through PGS
| | | |
| --- | --- | --- |
| Gifts and Gift Aid | Remittance Date | Reference that will show on parish bank statement |
| Regular Gifts | 10th of the month | PGS THANK YOU |
| Regular Gift Aid | All Gift Aid contributions will be sent in a single seperate transaction, as soon as they have been processed by the HMRC and received into the PGS bank account. | PGS THANK YOU |
| One-off Gifts | The designated parish bank account will recieve all gifts from the previous month in one transaction. As soon as ALL funds have cleared into the PGS account. | PGS - OO GIFTS |
| One-off Gift Aid | All Gift Aid contributions will be sent in a single seperate transaction, as soon as they have been processed by the HMRC and received into the PGS bank account. | PGS - OO GFTAD |
PGS and Generosity Week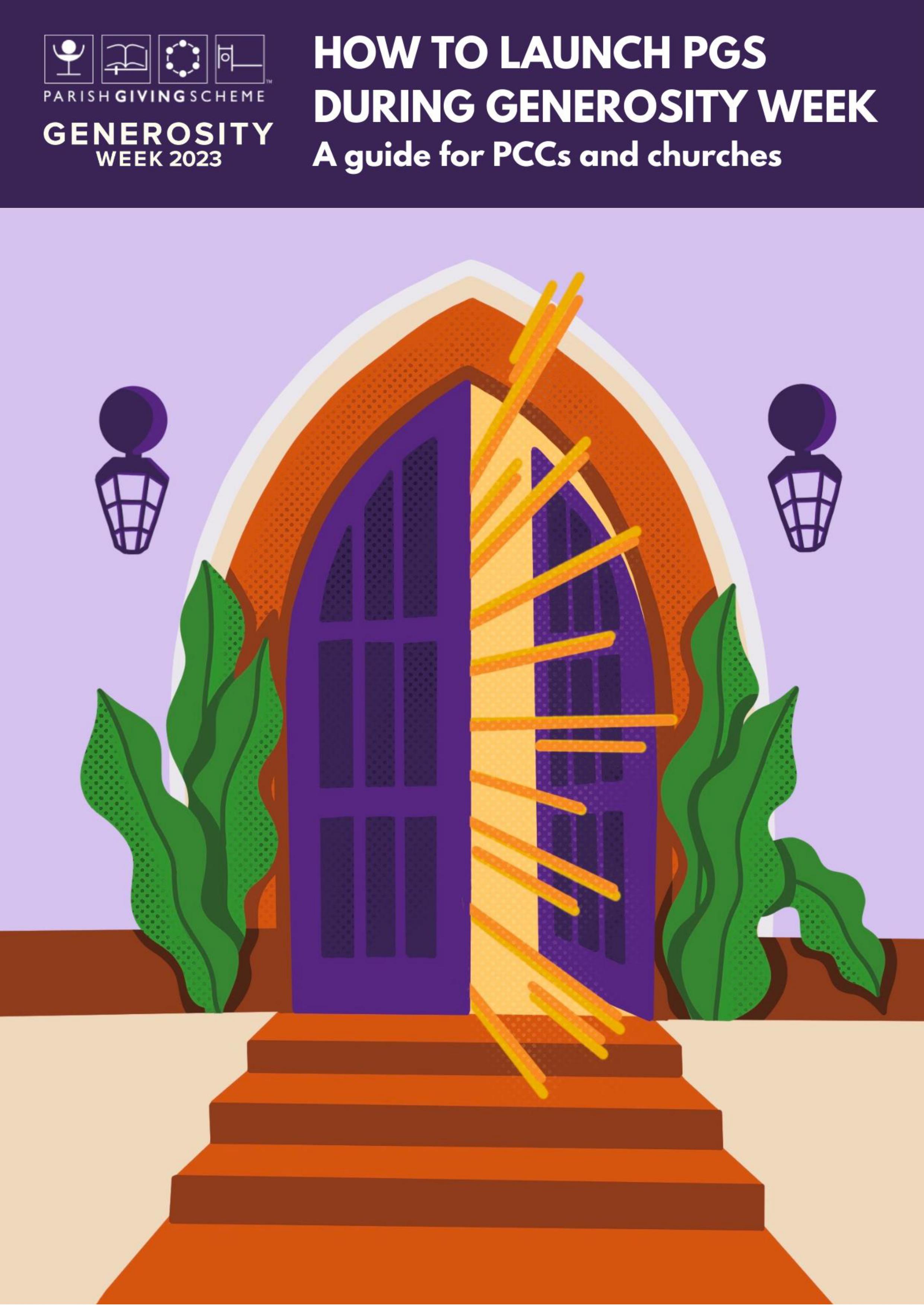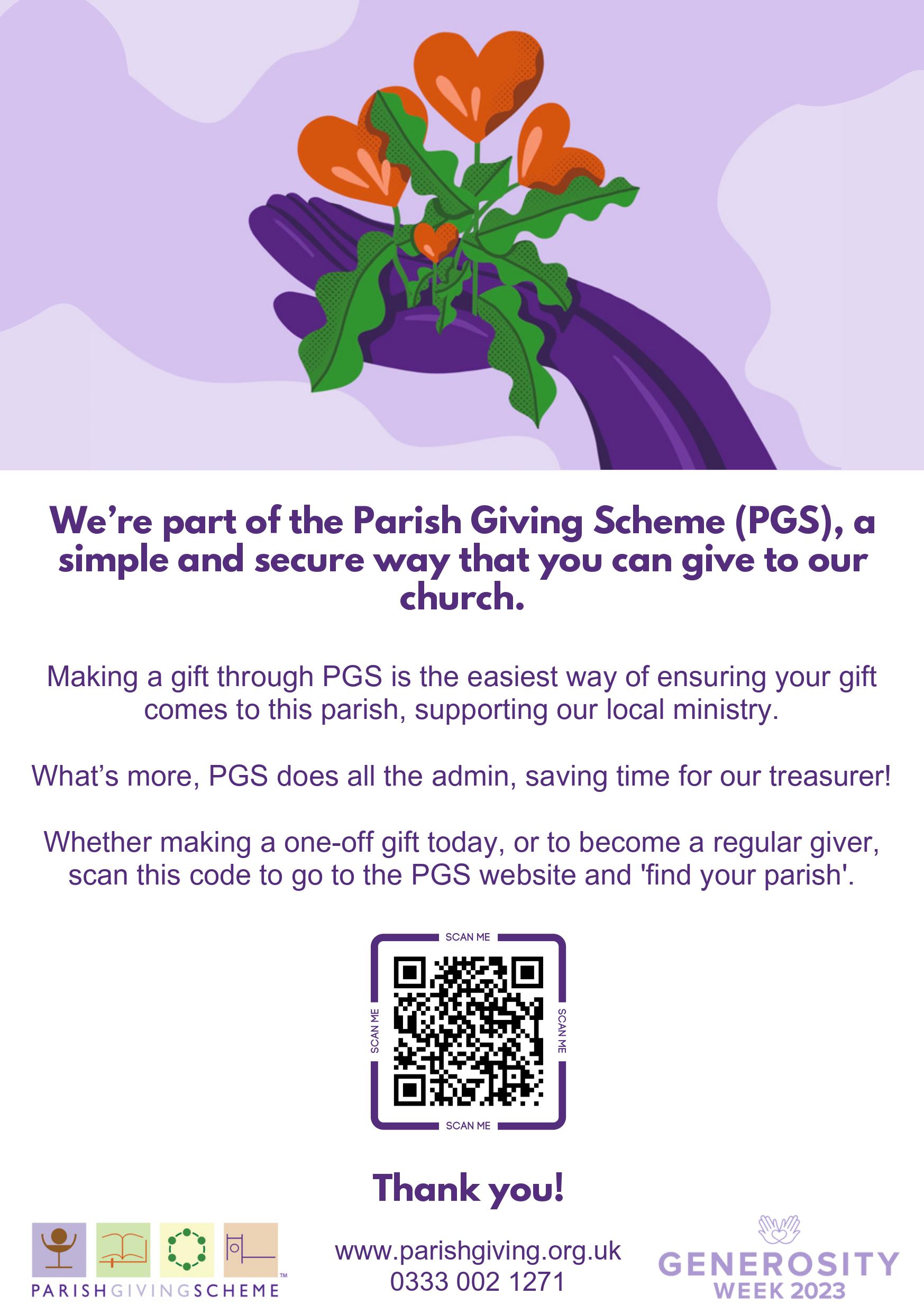 PGS have created an updated 'Guide to Launching PGS during Generosity Week', as well as a digital flyer aimed at givers. These resources are available to download below, and on the PGS website here.
Guide to launching PGS during Generosity Week | PDF
PGS Generosity Week Flyer | PDF
Customisable PGS Generosity Week Flyer | Word doc
---
Contact Details
Yalda Davis | Giving Advisor | 07721 219534
Julie Podd | Parish Resources Manager | 07826 556186
Parish Giving Scheme | Weblink
Address: 76 Kingsholm Road, Gloucester, GL1 3BD. Email: info@parishgiving.org.uk. Helpline: 0333 002 1260 (calls from a landline will typically cost no more than the national rate but this will depend on your communication provider).
Resources:
PDF Gift Form (add your parish place, church, & code e.g., Buryan St Thomas, 330633xxx, St Eds & Ipswich) or request from pgs@cofesuffolk.org.
PGS giving tokens - email pgs@cofesuffolk.org to request for your church (use on the plate to show support in place of cash).
PGS Banners - The diocesan office has two PGS banners (Make a difference, Support our church or Build a confident future for your church) which parishes can book out by emailing pgs@cofesuffolk.org, stating which banner and the dates required. Banners will need to be picked up from the diocesan office at a pre-arranged time and date.
Parish Change of Statement Receiver/Bank Account Forms all accessed here. Please also advise pgs@cofesuffolk.org of any changes.
Giving Review Form | PDF