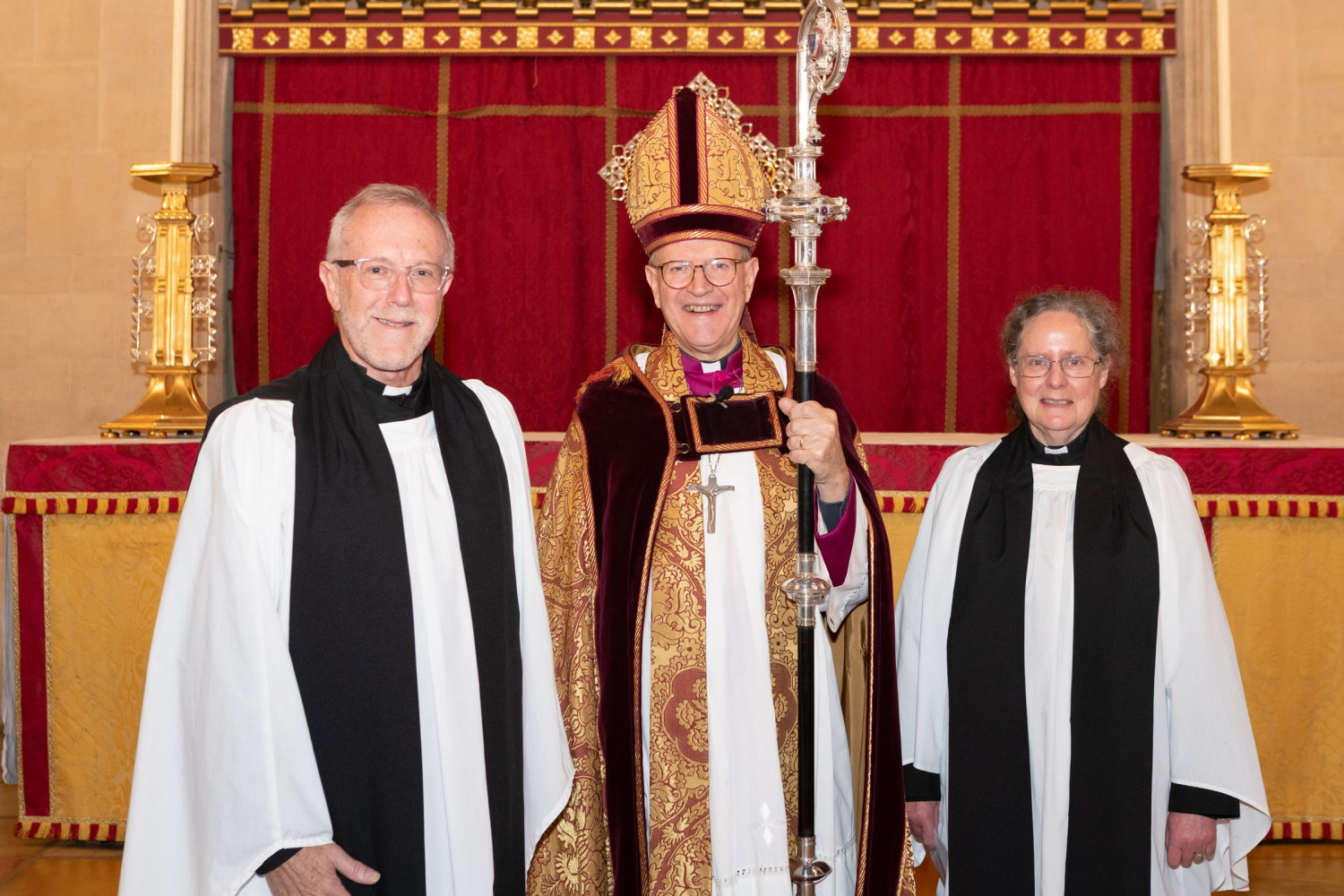 Two clergy in Suffolk have been recognised by their Bishop for exceptional dedication and commitment to the life of the Church and making a difference in the county's communities.
Revds Eleanor Goodison and Alan Forsdike have been appointed canons, a role which provides support, experience and advice to help the Bishops, the Cathedral Dean and colleagues as they lead the Church of England in Suffolk. This is additional to their other roles.
Bishop Martin installed the new Canons during the moving service at St Edmundsbury Cathedral, in Bury St Edmunds, on Sunday 20 November.
Bishop Martin said: "I am delighted to recognise the commitment of Eleanor and Alan, and I know that their experience and advice to my colleagues and I will be invaluable in the years ahead."
He added: "Their dedication to God, and to the life of our Church of England in Suffolk, is an example to all of us. Their commitment to serve others is representative of the many clergy and lay Christians who give so generously of their time in service to the people of our county. "
The Revd Eleanor Goodison, a member of the Diocesan Synod, is Priest in Charge of seven rural parishes in Waveney Valley - the Hoxne benefice of Athelington, Denham, Horham, Hoxne, Redlingfield, Syleham and Wingfield. She was formerly Associate Priest in the same benefice and is a trustee of the Waveney Food Bank. She was ordained in 2014, having trained on the Eastern Region Ministry Course and she served as a curate in the South Hartismere benefice. Eleanor is married to John McCracken, who is Associate Priest in the Hoxne benefice.
The Revd Alan Forsdike, also serves on the Diocesan Synod and was ordained deacon in 2005. He served with his wife Catherine the parishes of Westerfield, Tuddenham and Witnesham until 2019 and was then licensed as Chaplain to Ipswich Deanery. He is also Chaplain to the Diocesan Office and was recently licensed as an Assistant Area Dean to Ipswich Deanery. The couple are joint chaplains to the East Anglia Branch Guild of Vergers.