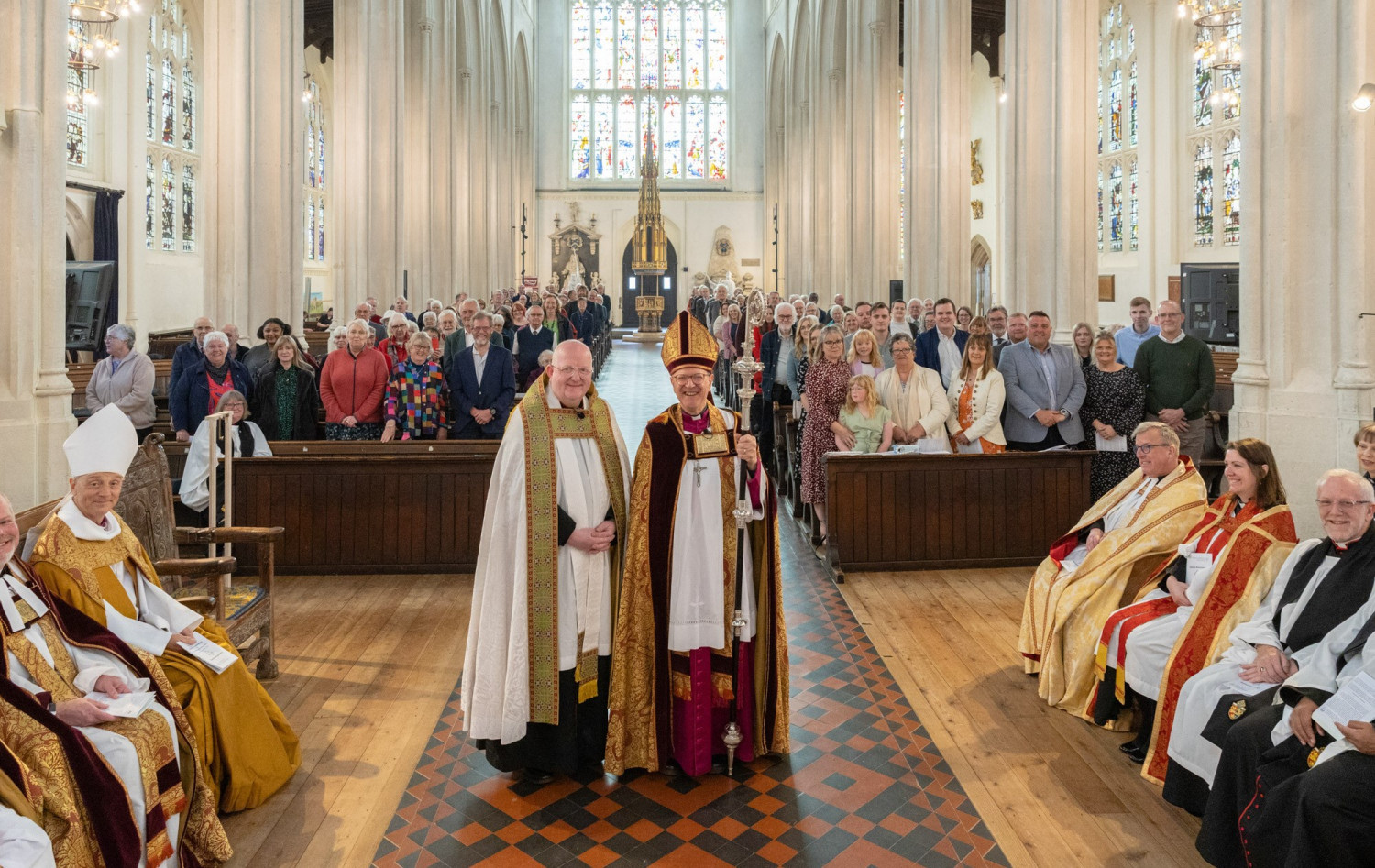 One of the most senior Church of England clergy in Suffolk has taken up his new role in the county with a promise to help churches continue to grow and flourish.
The Revd Canon Rich Henderson was installed as the new Archdeacon of Suffolk during a moving service on Sunday 14 May at St Edmundsbury Cathedral in Bury St Edmunds.
He had previously served as Rector of Beccles with Worlingham, North Cove and Barnby, as well as the Rural Dean of Waveney and Blyth.  Canon Henderson, who has been a priest in Suffolk for 17 years, served in Beccles for seven years in his previous role and was a curate there for three years previously.
The Archdeacon was one of the first supporters of food banks and is an honorary canon at St Edmundsbury Cathedral.
He said: "I have been involved in church leadership for 35 years, seven years as a churchwarden, then as a lay youth and families pastor before being ordained in this diocese in 2006. I am looking forward to coming alongside clergy, churchwardens and parishes to help develop good sustainable and flourishing ministry across the archdeaconry. As Archdeacon of Suffolk I will also be supporting chaplains in a variety of ministries across the diocese."
Archdeacons are key members of the bishop's senior staff responsible for supporting parishes and clergy and furthering church mission, reporting directly to the Bishop.
The Rt Revd Martin Seeley, Bishop of St Edmundsbury and Ipswich, said: "We are delighted to welcome Rich to what is a very varied role as one of our archdeacons. He will play a vital part in strengthening the mission of the diocese and relating this to the local realities and concerns of the moment. He has a wide-ranging brief which includes care of clergy and matters relating to church buildings, clergy housing, parish fund raising and a range of pastoral concerns."
The Rt Revd Dr Mike Harrison, Bishop of Dunwich, said: "The Archdeacon of Suffolk is a role dating back to 1119AD and Rich will join our three other Archdeacons in the diocese. He will be supporting myself and Bishop Martin as we encourage parishes, benefices and deaneries in their vital work of mission and ministry in the communities they serve".
The new Archdeacon follow in the footsteps of the Ven Jeanette Gosney, of Ipswich, who retired in April after three years as Archdeacon. Her farewell service was attended by many well-wishers in St Michael's Church, Framlingham, recently.
Picture credit: Keith Mindham