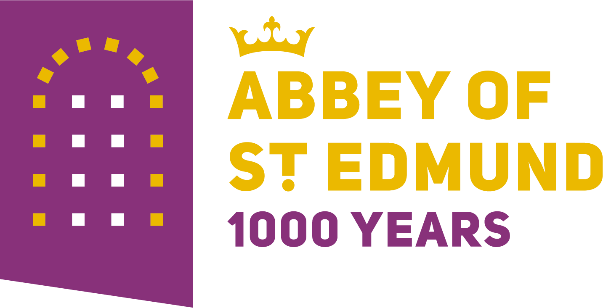 2020 is 1,000 years since King Canute founded the Benedictine Abbey in Bury St Edmunds. This is a major anniversary for Christianity in East Anglia and the Diocese is celebrating in various ways throughout the year.
Parishes are encouraged to celebrate their historic connections with the Abbey of St Edmund. Many churches across Suffolk had direct relationships with the Abbey and as part of the millennium celebrations we are seeking to document these links. Parishes may also wish to visit the Cathedral and the Abbey ruins to mark these connections.
The journey of the monks that originally came to Bury St Edmunds in 1020 will be re-enacted by pilgrims walking from St Benet's Abbey in Norfolk and from Ely. This pilgrimage, in the week of 18 May, will include our Bishops and our Dean, reaching Bury St Edmunds on 22 May.
Benedictine monks, nuns and oblates will gather in the Cathedral at the invitation of Bishop Martin and Bishop Alan Hopes (Roman Catholic Bishop of East Anglia). On Saturday 23 May, "Abiding Wisdom. The gift of Benedict today" will be an exploration of Benedictine teachings, featuring special guests Rowan Williams (former Archbishop of Canterbury), Professor Sarah Foot (Oxford University) & Abbot Geoffrey Scott (Douai Abbey). The occasion will be marked by a procession into the Abbey ruins, the launch of a series of sculptures at the location of the Shrine of St Edmund, and the opening of an exhibition (in the Cathedral Treasury) of ancient manuscripts from the Abbey Scriptorium - reunited at their place of origin for the first time since the Dissolution, almost 500 years ago.
On Sunday 24 May, the weekend will continue with ecumenical worship led by Bishop Martin and Bishop Alan. The celebrations will conclude with Vespers in the afternoon offered in thanksgiving for the living Benedictine tradition, and sung by an ecumenical Benedictine choir.
A party for the Diocese will take place on the afternoon of Sunday 19 July led by Bishop Martin. A wonderful act of worship and celebration will be for all the parishes and people of the Diocese. Timings and details will be confirmed soon.
The finale to the year will be the celebration of St Edmunds' Day over the weekend of 20-22 November. The Abbey ruins and the Abbey Gardens will be illuminated with a Spectacle of Light that will feature breath-taking video projections onto the old Abbey gateways. On Saturday 21 November, there will be a celebration in the Cathedral with friends from neighbouring Dioceses. This will include the Edmund Millennium Lecture by a prominent public figure.
For more details and to get involved with these events please visit the cathedral website www.stedscathedral.org/whats-on
Thursday 30th January 2020