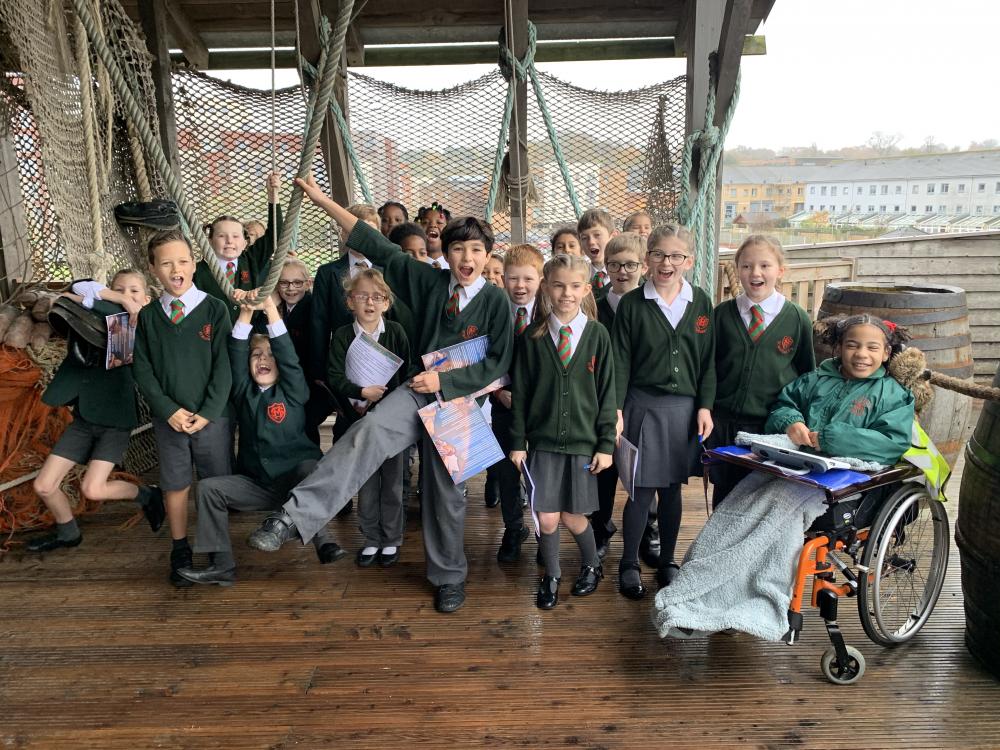 You can forget animals marching into Noah's Ark two by two. Around 30 excited schoolchildren climbed the gangplank onto a half-sized replica of the wooden boat moored in Ipswich to be filmed for BBC Songs of Praise last week.
The ark's creator, Sir Aad Peters, invited the pupils from St Margaret's CEVA Primary School in Ipswich to enjoy a morning on the 70m long vessel which is the world's only floating museum of Bible stories.
Headteacher Jo Kidby said: "We were delighted to be invited to bring some of our Year 4 pupils onboard Noah's Ark. We hope the children's visit to Noah's Ark will have brought to life some of the stories they have learnt about through the hands-on activities and artefacts on board. As a school we teach our children how to react in times of hardship with perseverance and resilience so we hope Noah's Ark will help them understand this further. This was a once in a lifetime opportunity and the children are very excited about being on TV on Songs of Praise."
The ark, created by Dutch artist and TV producer Sir Aad, is docked at Orwell Quay in Ipswich.
He said: "We want the ark to be a centre of learning where people from a range of cultures and beliefs can come together. We were really pleased to welcome the children from St Margaret's to explore the ark and hope many more schools will visit while it remains docked in Ipswich."
The ark houses a museum, a 12ft tall Tree of Life and an array of quirky and creative sculptures telling the story of the bible.
Jane Sheat, Diocesan Director of Education for St Edmundsbury and Ipswich, said: "We are incredibly grateful to Sir Aad for the kind invitation to bring some of our pupils on board Noah's Ark. To have a floating museum and exhibition bringing stories to life from the Bible is a fantastic resource to encourage pupils to engage with learning."
The episode of BBC's Songs of Praise, which was filmed last month, is due to be broadcast this Sunday 19 January 2020.
Wednesday 15th January 2020