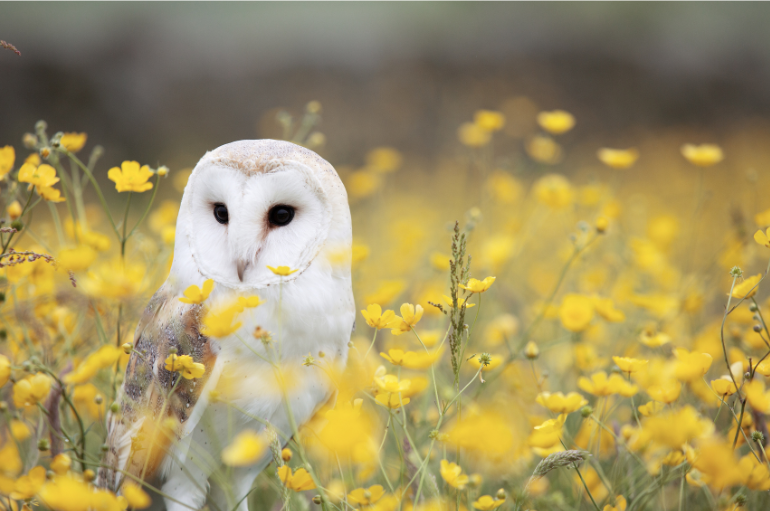 Over a period of time, Holy Innocents church in Great Barton have been steadily building up their resources for birds and wildlife in the churchyard. This includes a variety of boxes for small birds, as well as three barn owl boxes, two tawny owl boxes, and with a little owl box still to come. A total of eight feeders are also managed to make sure all the flock are well fed!
The wildflowers in the ancient part of the churchyard are also encouraged to grow, with the contractor being very sympathetic whilst cutting the grass to leave areas for them to flower and seed before cutting. The development of a wild flower area is also planned, with 1200 square metres being set aside in the green burial area of the churchyard to be left uncut until the autumn. Mark Prina, ecologist from Rocha, visited to confirm that reversion had taken place, as this was originally farmland. Mark also agreed to return in the spring to catalogue the wildflowers that already exist in that area. Through this it is hoped to encourage wider diversity, with bees, butterflies and more small birds.

In addition to this, various piles of branches are left for nesting birds and small creatures to make a home. Rotten wood is left for insects to colonise, likewise ivy on trees and headstones is left. Some wild fruit trees are also present. Corrugated sheets may also be put down soon to encourage slow worms. A bee orchid appeared last year. There is also a possibility in the future for swift boxes to be installed in the bell chamber.
All in all, a positive result for the environment.