Churches in Suffolk are entering the cashless generation with the introduction of contactless donation devices.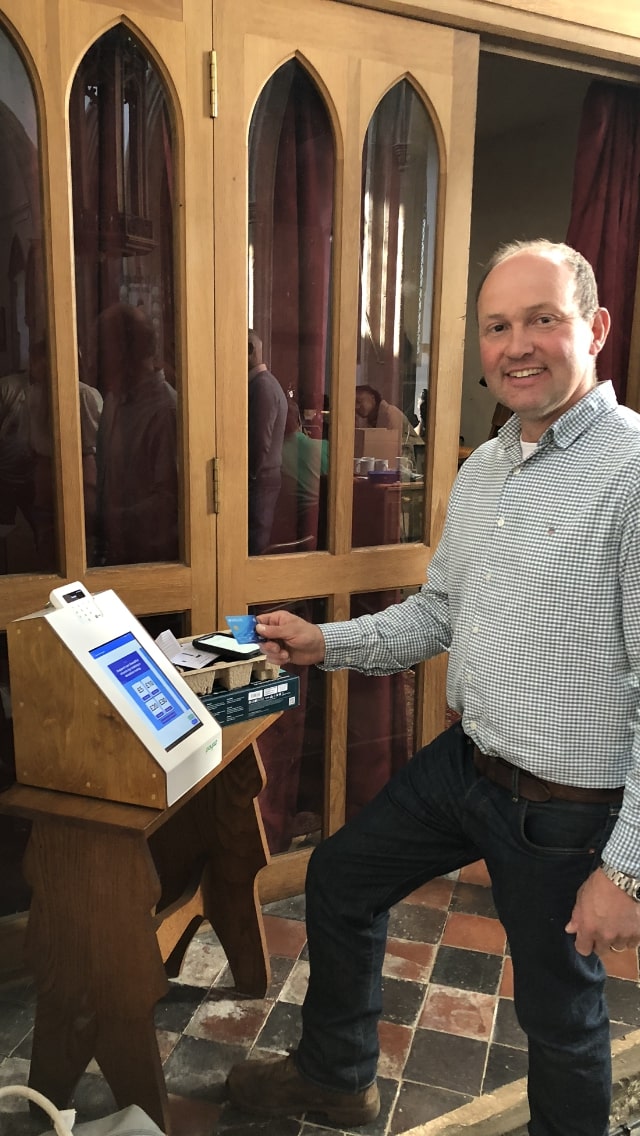 A total of 30 churches across the county have successfully applied to a new £1.25million Church of England scheme, which will see them equipped with a Payaz Giving Station or CollecTin More machine. Their introduction comes as the Diocese, alongside the wider Church of England, looks to adapt to modern finance habits and make it easier to give generously across the country.
Successful applicants received training and their contactless terminals on Wednesday 22 September and Thursday 23 September 2021.
Tom McKenny, Treasurer and Deanery Organiser, Stoke by Clare Church (pictured) said: "I am very pleased to receive one of the contactless payment terminals for our church. Allowing people to donate in a way that is convenient for them is important for both us as a church and for our local community. Churches like us up and down the country have really missed our visitors during the Covid-19 pandemic and allowing them the opportunity to donate digitally is so important."
The Diocese is also committing to facilitating internet connectivity in rural churches as part of the rollout. Research by UK Finance last year found 13.7million people in the country said they use cash once a month or less. Congregations will still be able to make donations in cash, although it is hoped the contactless devices will help boost generous giving. Similar shifts towards digital donations have been seen across the Church of England, with many churches offering congregations the option to give online, using QR codes, and through the Parish Giving Scheme (direct debit).
Julie Podd, Parish Finance and Resources Advisor, said it was "great" to give free devices to churches. She added: "It was lovely to be able to provide contactless machines to 30 churches. This and 'online giving' will help bring churches into the 21st century and make it easier for everyone to make donations. We look forward to seeing how the contactless machines positively impact generosity in our parishes."
For further information on contactless giving and digital giving please visit:
Contactless giving | weblink
Contactless pilot scheme | weblink
Stewardship | weblink
Email: Julie Podd, Parish Finance & Resources Advisor or telephone 01473 298555 | 07826 556186
Churches included in the pilot:
Holy Innocents, Great Barton
Holy Trinity with St Mary's, Bungay
St Andrew's, Cotton, Stowmarket
St. Andrew, Rushmere
St Andrew, Wickham Skeith
St Gregory's, Barnham
St Gregory's, Rendlesham
St John the Baptist Church, Snape
St John's, Saxmundham
St John's, Woodbridge
St John the Baptist Church, Ipswich
St John the Baptist Church, Needham Market
St John the Baptist, Stoke by Clare
St Margaret, Ipswich
St Mary Magdalene, Debenham
St Mary the Virgin, Haverhill
St Mary's, Aldham
St Mary's, Grundisburgh
St. Mary's, Halesworth
St Mary's, Mendlesham
St Mary's, Shotley
St Matthew's, Ipswich
St Peter and Paul, Old Felixstowe
St Peter's, Great Livermere
All Saints, Darsham
All Saints, Hemley
All Saints, Hollesley
All Saints, Kesgrave
All Saints, Saxtead
All Saints, Wickham Market
Picture credit: Julie Podd.