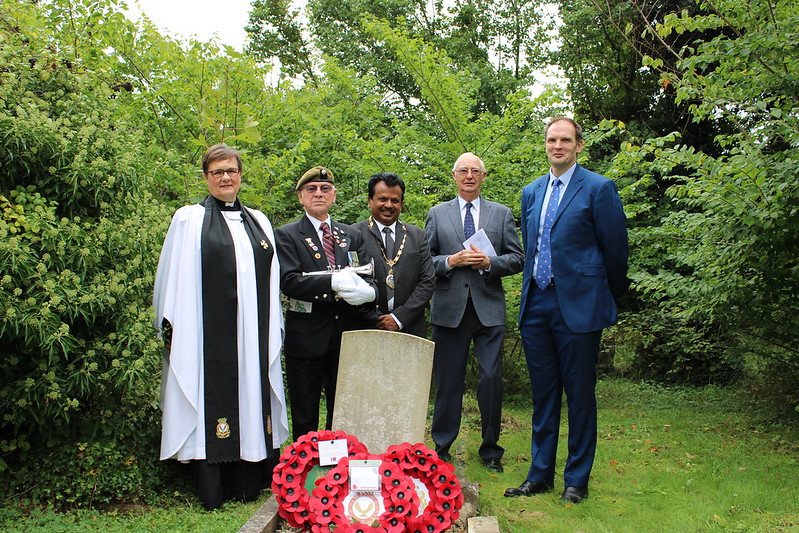 A service to remember those who fought and died in the Battle of Britain was held at a church in Ipswich at the weekend.
MP Dan Poulter and Ipswich's Deputy Mayor Elango Elavalakan were among the guests who packed St Mary and St Boltoph Church in Whitton for the commemoration service on Sunday. They were joined by 188 (Ipswich) Squadron Air Training Cadets, who led a procession into the church before hymns and prayers were said in honour of the brave airmen who made the ultimate sacrifice in defence of our country.
Following the service, the air cadets and congregation were joined by Ipswich bugler Phil Hubert, who played a stirring rendition of the Last Post and Reveille while wreaths were laid at the grave of an airman buried at the church.
Rev Mary Sokanovic said: "Sunday's service was a way of commemorating all those who fought and died in the Battle of Britain. The service was very well attended – the pews were packed with people wanting to show their respect. I would like to say a big thank you in particular to Phil Hubert, who played his bugle at the grave of an airman buried in our churchyard. It was a moving moment to hear the Last Post echo around the churchyard as we bowed our heads in respect of those who had died. I would also like to thank the air cadets who represented their squad to such a high standard. The service was a fitting way to mark the bravery, courage and sacrifice of all those who fought for our freedom, as well as those who currently serve in our armed forces."