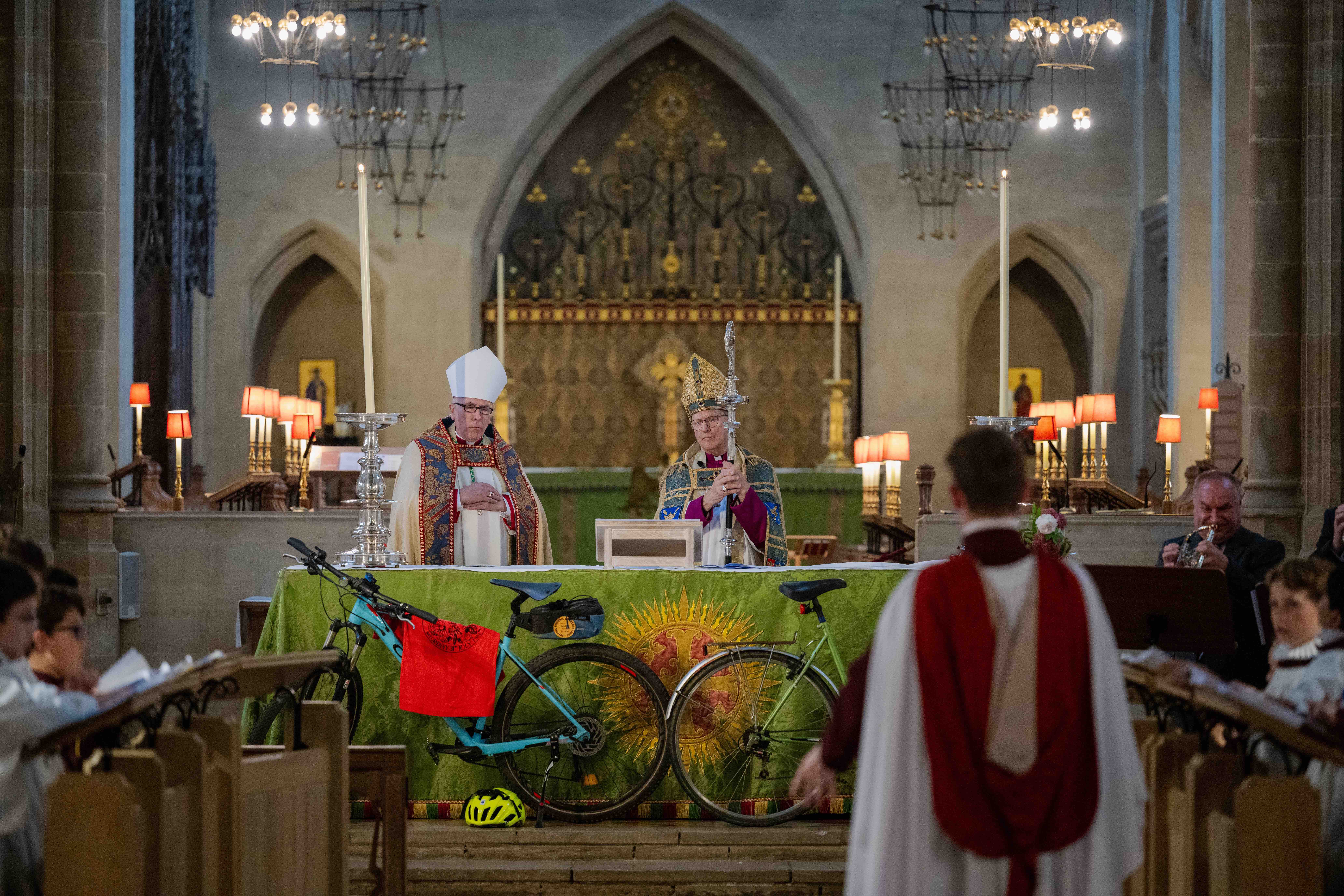 Service of Thanksgiving for 50 years of Suffolk Historic Churches Trust St Edmundsbury Cathedral, held on Sunday 17 September.
With choirs, music, readings, prayers and a message from Griff Rhys-Jones, the Suffolk Historic Churches Trust (SHCT) celebrated, on Sunday, fifty years of supporting historic church buildings of all denominations, in Suffolk. Over the years they have awarded thousands of pounds of grants, for church restoration and improvements, that was raised through legacies and sponsored events -principally the annual Suffolk Churches Ride and Stride.
Invited to the special cathedral service, by the Lord-Lieutenant of Suffolk, Clare, Countess of Euston, the Patron of the Trust, were two representatives from every historic Suffolk church, chapel and meeting house. 450 people representing 300 churches came - 270 Church of England parishes along with other denominations, including representatives of important historic buildings like Clare Priory, the Unitarian Meeting House in Ipswich and St Benets, Beccles. The Lord Lieutenant was there as were the High Sheriff of Suffolk, Mark Pendlington , our Resident Judge HHJ Martyn Levett, and church architects, historians and officers of the Trust. In total 700 people from every corner of Suffolk filled the cathedral.
Church representatives were asked to wear, with pride, a badge stating their church and date of foundation and a sea of blue and white badges told the story of Suffolk's unique and glorious legacy of mediaeval churches
The service began with a Procession led by cyclists responsible for most of the £10m (in today's money) raised and distributed by the SHCT over the last fifty years, and included church historians, church architects, SHCT Trustees, Ride and Stride organisers, the cathedral choir, children from Sexton's Manor School, and Ecumenical and Clergy representatives.
The service was opened by a trumpet fanfare and a welcome from the Dean and included a sermon by the Rt Revd Martin Seeley, Bishop of St Edmundsbury and Ipswich, prayers by priests of three denominations and a joint blessing by Bishop Martin and Bishop Peter, the Roman Catholic Bishop of East Anglia. There was a reading taken from Suffolk's legendary writer Ronald Blythe's 'Next to Nature' and a conversation between Trustees Jamie Norman and Rachel Sloane on the next fifty years. Music was orchestrated by the cathedral Director of Music, Timothy Parsons with the cathedral choir leading the singing and children from Sexton's Manor School in Bury St Edmunds, conducted by music teacher, Emma Jones, performing a contemporary hymn written especially for the 50th anniversary of Suffolk Historic Churches Trust by Felixstowe musician, Andy Rayner.
Geoffrey Probert, Chairman of Suffolk Historic Churches Trust said "I am so grateful to the Cathedral for hosting the Service and would like to thank Bishop Martin for his Sermon, Griff Rhys Jones for allowing us to show his film 'my church' and all those who made it all happen . Above all I would like to thank the churchwardens and treasurers who came in numbers from all over Suffolk to celebrate the Trust's 50th but who are the real heroes of the story in their loving care year in year out for our wonderful church buildings."