Contactless giving is becoming more common throughout our day-to-day lives, and churches can use this technology as well by having donation terminals in their buildings which people can use with their debit or credit cards.
Advantages
Fewer people are using cash (and cards are more COVID safe) so contactless giving provides a safe and easy way to donate to churches.
Donations of £30 and under are eligible for Gift Aid claims under the Gift Aid Small Donation Scheme (GASDS) just like cash donations.
Some machines allow donors to gift aid at the point of donation. Suitable for amounts over £30.
Easier for treasurers to manage the donations as reports are easily accessible and less money handling and visits to the bank/post office are required.
Some devices can be secured, which allows visitors to donate to open churches at any time they can access the building.
Can be used for events (eg. concerts, flower festivals and fetes) for donations and payments (depending on the device).
Allows non-regular churchgoers (eg. those attending baptisms, weddings) to support the church easily.
Devices available at a variety of price points, some are securable, some do not need wi-fi or mobile signal.
What to consider
Will the cost of buying and the running the device (some have monthly charges) be exceeded by the expected donations? If not, you should consider instead getting online giving through Sum Up and Give A Little (includes QR code) which only incurs a small transaction charge on each donation.
Is your church open, in which case you will need a securable device, or will it only be used during services and events? If you use it for events, would you want to be able to take it around the church? For example the CollecTin More is securable but also portable whereas the Payaz Giving Station is too big to move around.
Where will you site the device? It needs to be visible and accessible, preferably with a display about where the donated money goes. See the 'Making the most of contactless' guide.
Do you have wi-fi or an adequate mobile signal to run a device (need minimum 2 Mbps download speed inside the church) – see mobile SIM guide. If not, you will need to consider an offline device, most of which incur a monthly charge.
All donations will incur transaction charges – most competitive currently through Parish Buying with Give A Little and Sum Up (but adequate mobile signal or wi-fi is needed).
If you choose a device that uses Sum Up and Give A Little you will also be able to set up online giving (including a QR code) through the same account, making it easier to manage donations from both sources.
No faculty is required to introduce equipment for card payment systems if they are not fixed to historic fabric (included in list A of the Faculty Jurisdiction (Amendment) Rules 2019) but if you are not sure check with the DAC first.
Where to buy?
Register with Parish Buying here who have negotiated special packages and deals for Church of England members including free premium membership of Give A Little.
Go to Contactless Solutions here and log in to see current prices. Ensure that you are on the Parish Buying site when purchasing to get the most competitive prices.
Check with the Parish Resources Team which churches you can visit to see a particular device and get feedback from those using it.
Email emma.denton@cofesuffolk.org or yalda.davis@cofesuffolk.org to arrange a chat.
Digital Giving Newsletters
The National Giving Team give us some top tips and pointers on getting the most out of your donation device and online giving. See the Summer Newsletter here which has some great advice on how to use digital giving for weddings at your church.

The Christmas Digital Giving Newsletter is now available and is packed full of useful information to get the most out of your devices and online giving this Christmas time. It also has the latest "Join the Song" backgrounds for devices and online giving. Find it here and if you need any help or have queries contact emma.denton@cofesuffolk.org
Resources
Mobile Speed Test Guide | PDF
Making the most of contactless | PDF
Find out how to get an 'excepted charity' certificate and what to do if your church has no postcode | PDF
CollecTin More setup guide | PDF
Payaz Giving Station setup guide | PDF
---
Contactless giving success stories
St Mary Magdalene, Debenham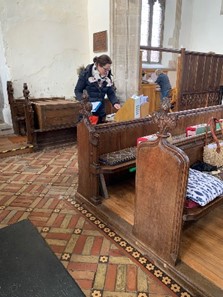 "Debenham PCC received a contactless giving device as part of the Contactless Pilot run by the diocese. Installation was quite straightforward and the device was up and running from the end of September 2021. We did have to boost our internet signal inside the church so the machine would work properly.
We have raised nearly £6,000 from 475 donations via contactless giving directly in the church, averaging out at £11.77 per donation. As the majority of donations are under £30, we are able to boost the amount collected by claiming Gift Aid under the Gift Aid Small Donation Scheme (GASDS), which last year added a further £1,200 to the amount raised.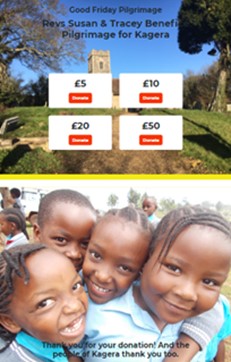 The Give A Little platform used for our contactless device also allows us to create web campaigns, which have been equally successful, with £5,390 being raised for various causes, e.g. Ukrainian Appeal, Pilgrimage for Kagera, a new flagpole for the church and purchasing laptops for Debenham Primary school. These campaigns are very effective and quite straightforward to set up. They are rather limited in what can be displayed, but we have found them to be very effective. Our flagpole campaign raised nearly £1,500 in under a week!
We are very pleased to have raised over £11,000 in total since we started.
Our church is open from 8am till 5pm every day and we are blessed with many visitors to our beautiful church".
---
St John the Baptist, Saxmundham
"We've had a contactless card reader in St John's Church, Saxmundham for about 18 months now, and it has been a great success. We have it set up and switched on whenever the church is open (including Sundays). We have found that casual giving from visitors has increased and we have some who give each week through the card reader too.
I think we receive more through the card reader than we would have if we just had a collection plate. We have held a couple of special collections too, a charity evening and a specific campaign for Ukraine, and the card reader has been so useful in helping us raise funds for others. It was such a success that we also got a card reader for St Mary and St Peter's Church in Kelsale, just before Christmas last year. In the short time that we have had one there we have seen an increase in casual giving and it has already paid for itself (as we needed to pay for a SIM card).
The two different devices are both easy for people to give through, and for our volunteers to switch on and off when opening and closing the churches".
The Revd Dave Preece, Priest in Charge, Saxmundham with Kelsale cum Carlton