Treasurers play a vital role in ensuring the smooth running of our church finances. This is an exciting role managing the income and expenditure of the church, sometimes hundreds and thousands of pounds. You will work closely with the PCC leadership team, the Ministry team and Churchwardens. You will support others in your parish such as the Local Giving Adviser and work with your Deanery Organiser.
There is support available, including training, for Treasurers in the Diocese to help you undertake your responsibilities. We can also arrange training courses by bodies such as the Association of Church Accountants & Treasurers (ACAT) and others to help you succeed in your role. We also have free access to ACAT available - please get in touch with us to benefit from this.
The Parish Resources team in the Diocese will work with you to reduce procurement costs, find grants and funds and maximise parish income.
What does a Treasurer do?
Ensures the church operates correctly according to Charity Commission guidance
Assists PCCs in financial planning
Budgeting
Balancing of the books
Provides data to the National Church such as Parish Finance Returns
Organises the Annual Report and Accounts and submits them to the Diocese
Assists with procurement eg. insurance and utilities and ensures accountability of all spending.
Who can be a Treasurer?
You could have a finance background or previous knowledge of finance in another organisation.
You need to have good communication skills to work with your Churchwardens and ministry team.
A good understanding of the structures and practices of a PCC could be useful.
---
Treasurers' Forum
Our online Treasurers' forum enables you to share best practice and resources and to build a strong network with over 100 other treasurers across our Diocese. Joining the forum takes less than five minutes and it's free! Please allow up to a week for your joining request to be approved, or alternatively, if you are in a rush, please email yalda.davis@cofesuffolk.org and say that you have requested to join the forum.
Follow the link above and click the 'Sign In' box in the top right hand corner. Then click 'Create account' and on the next page, 'Use my current email address instead' (see screenshots below).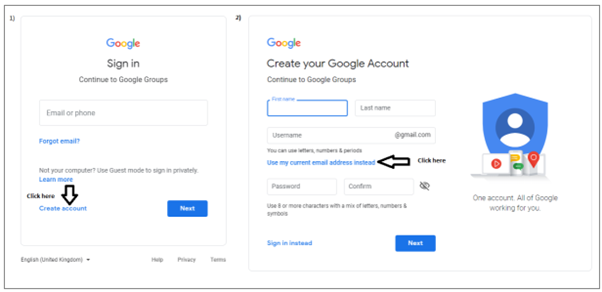 ---
ACAT (Association of Church Accountants and Treasurers)
As a treasurer of a parish, you are entitled to use our block membership of ACAT. Please contact yalda.davis@cofesuffolk.org or emma.denton@cofesuffolk.org to ask for details of how to join.
---
Further resources
Parish returns | Weblink
Parish Share | Weblink
Parochial fees | Weblink
Stewardship | Weblink
Church Budget Template | XLSX
---
For further information, please contact:
Philip Keeble | Accountant | 01473 298500