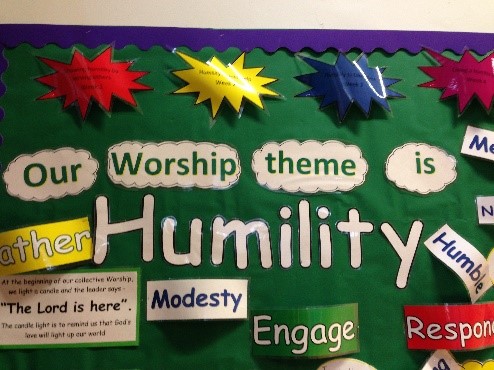 Collective worship is a highly valued and set apart time in the school day and week, where the whole school community can gather together in a time that is honoring and worthy to God.
Collective worship in our schools is clearly based on the traditions of the Christian Church, however, it is also a shared activity that allows for a variety of responses, providing an opportunity for those of any religious faith or none to focus and reflect on stimuli which allow the human spirit to respond with integrity. Our schools are committed to respect the religious communities, or non-religious backgrounds, from which pupils and staff come. We want our times of worship to be an oasis, a place of spiritual refreshment for all.
School acts of worship aim to:
explore the Christian faith with children and staff, especially to celebrate the C of E's educational vision: Dignity, Community, Hope and Wisdom
give an opportunity, for those who wish, to worship God, and, for those who don't, a clear opportunity to demonstrate respect for others
discover and celebrate key moments of the Christian calendar, and to enjoy and celebrate special moments of the lives of our school communities
help children to develop a sense of awe and wonder at the world around them, developing a spiritual dimension to their lives and personal relationships
strengthen and support the school community and celebrate the Christian belief that each unique individual member is made in the image of God
provide regular time and opportunity for reflection, enabling children to move from what is of immediate but passing concern to the broader and more lasting concerns of life
provide time and opportunity for thanksgiving and to enjoy the unity which derives from sharing friendship, acceptance, joys, hopes and fears, etc.
develop an awareness of and concern for the needs of others as well as personal needs
provide time to share with others the things they have been doing, their thoughts and ideas
help children to think about Christian values and how these might be shared and put into practice by all in school
give children experience of being active members of a caring community, who respond in a compassionate and civilised way to experiences of injustice, cruelty, exploitation, greed etc.
For the CofE's new Statement of Entitlement and Expectation for Collective Worship (May 2021):
Statement of Entitlement and Entitlement for CW | Weblink
For the Diocesan Collective Worship policy, approved by the Diocesan Board of Education (February 2020):
Collective Worship policy | Weblink
Collective Worship planning
Gemma has put together some ideas for CW planning based on values, please see below and click on the title for more (PDF except where stated):
There are also seasonal CW planning ideas:
Harvest Festival | PDF
Remembrance | PPT
All Saints | PDF
NEW Epiphany: 'Strong in Spirit and Filled with Wisdom' –Jesus as a child | PPT
a liturgical calendar for the autumn term | PDF
8 Collective Worships featuring diverse representations of Christ | PPT
NEW Gemma has also put together a series of 5 Collective Worship plans on:
God is...exploring Christian ideas about God during collective worship | PPT
Previous planning for 2020-2021
Collective Worship Planning Summer 2 2021: 'Accept one another as Christ accepted you.' | PDF
Collective Worship Planning Summer 1 2021: Encountering the risen Jesus | PDF
Collective Worship Planning Spring 2 2021: Jesus in the Wilderness | PDF
Collective Worship Planning Spring 1 2021: Hope, Courage and Endurance | PDF
As part of the collective worship plans for the first part of the Spring term, The Rt Revd Dr Mike Harrison, Suffragan Bishop of Dunwich kindly contributed a video on what endurance means to a Christian.
Collective Worship training
We are running two new CW courses this academic year: Inspirational Collective Worship; and CW and RE for foundation governors.
We offer a collective worship conference every two-three years which deals with current recommendations on good practice and examples from local schools.
For details of all our courses, please see our:
Training and events page | Weblink
Collective Worship resources
For details of our CW resources including Flippin' Praise, please see our:
CW Resources page | Weblink
For further information
Please contact Gemma Taylor regarding training and collective worship.