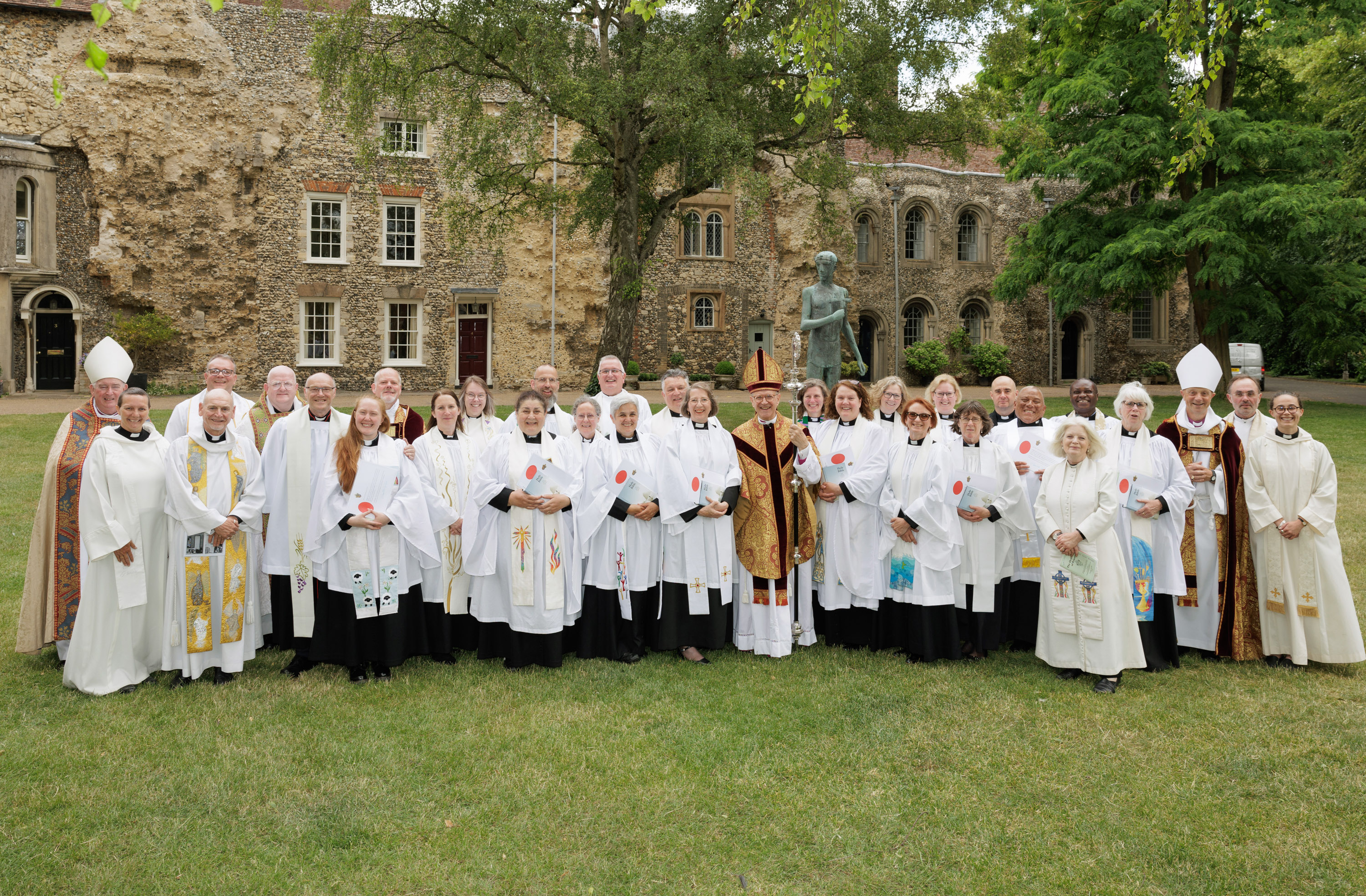 Men and women are continuing to come forward in record numbers to serve communities as Church of England clergy right across Suffolk. A total of 23 were ordained as priests and deacons during last weekend, compared with ten during 2015.
On Saturday 1 July, Bishop Martin of the St Edmundsbury and Ipswich Diocese, and Bishop Mike of Dunwich, ordained the newest 13 priests and ten deacons. Their backgrounds include previous careers in midwifery, neuroscience and working in a charity with disadvantaged families.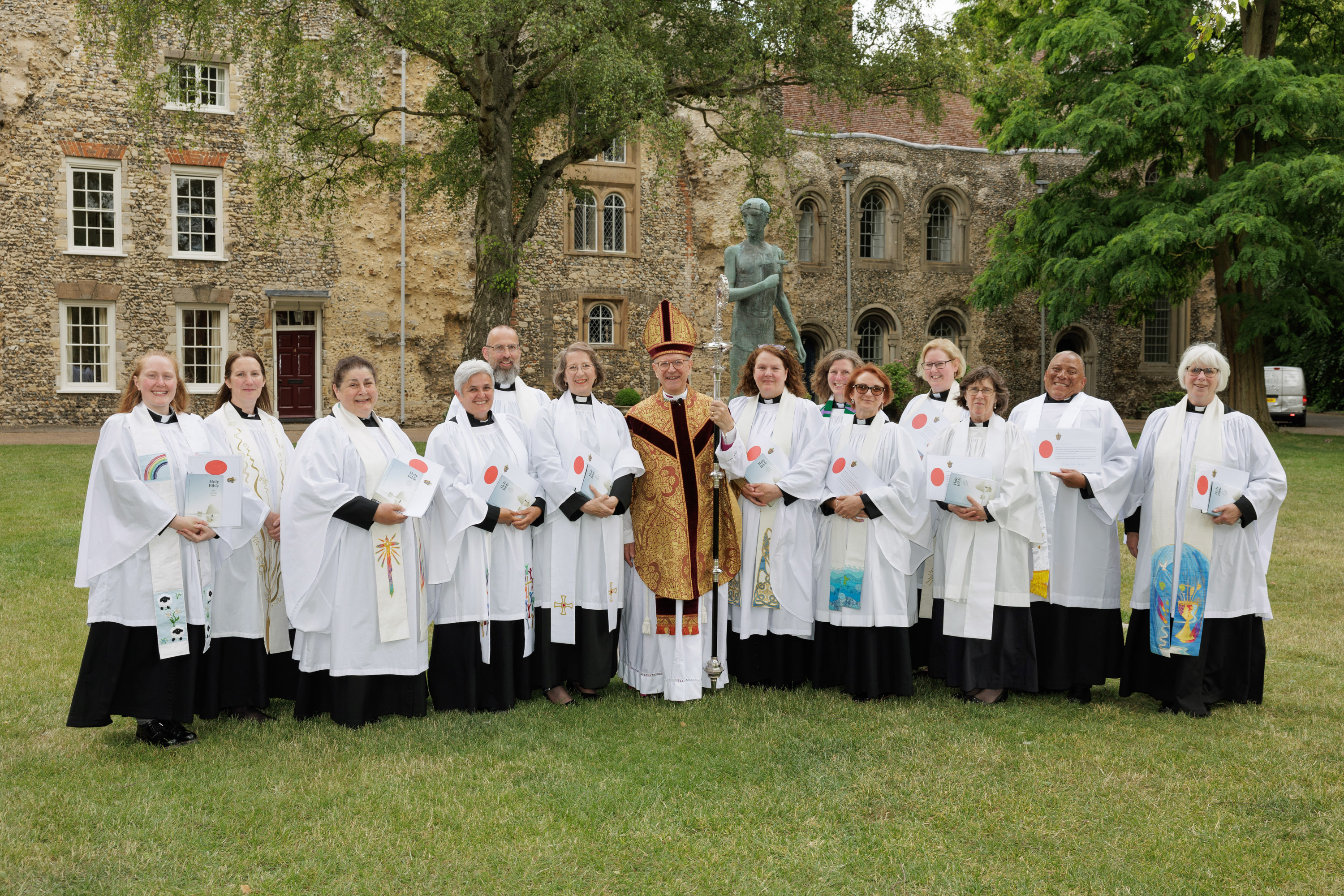 The new clergy, who bring both youth and decades of experience to their new roles, will serve in parishes including iIpswich, Aldeburgh, Beccles, Rougham, Worlingham and Framlingham. The two bishops welcomed the new clergy as they led two moving services at St Edmundsbury Cathedral in Bury St Edmunds, in front of hundreds of well-wishers on Saturday (July 1).
Among the new clergy is Sarah Lock, a former Independent Financial Adviser (IFA) who was educated in the Thurston area, and today she still returns to her former primary school, at Rougham, on a weekly basis to work with the children. She has been ordained deacon for Rougham, Beyton with Hessett and Rushbrooke.
Mrs Lock is involved with The Doxa Project, working in a deprived area in Kenya, east Africa, and said: ''I became involved through my oldest brother who is a regular visitor to the work out there.'My role is often to help out on the admin side of things, updating records, but also to work alongside our Kenyan team with the ladies, particularly those with HIV. We have undertaken a number of key projects including providing education, food, water filters as well as general assistance to families who cannot help themselves.''
Sarah Hall, who will serve in Ipswich was also among the new clergy, said: "Having grown up in Leeds, I've spent the last 28 years in Ipswich with my husband, Phil and son, Josh. For most of that time I was a midwife, primarily in the community, caring for families in Ipswich. Through this role, I walked alongside many families at the happiest and the most heartbreaking times. I slowly realised God was calling me to minister to the wider community, in all the highs and lows of people's lives. I have had an amazing two years at theological college, and I now look forward to seeing where God will take me."
Karen Smith, a curate in the Stour Valley Benefice and is now a newly ordained deacon there, has a background in academia. She said: ''I trained in neuroanatomy at the Cambridge University Department of Anatomy & Centre for Brain Repair, my research focused on the potential of neural grafting to treat neurological conditions."
She enjoyed a long career in academia, mainly at Cambridge as the Executive Director of the Computational Biology Institute and Head of the Corporate Liaison Office and University College London where she was the Director of Bioprocess Leadership developing transformative research initiatives, through partnerships with private, public and third sector organisations.
Bishop Martin is delighted to welcome so many new clergy and said: "We have a very active recruitment programme and we are seeing the fruits of investing in these people's future and the future of the churches in Suffolk. The increased number of people wanting to become priests and deacons is a sign of the spiritual health of the Church, and of individual congregations.''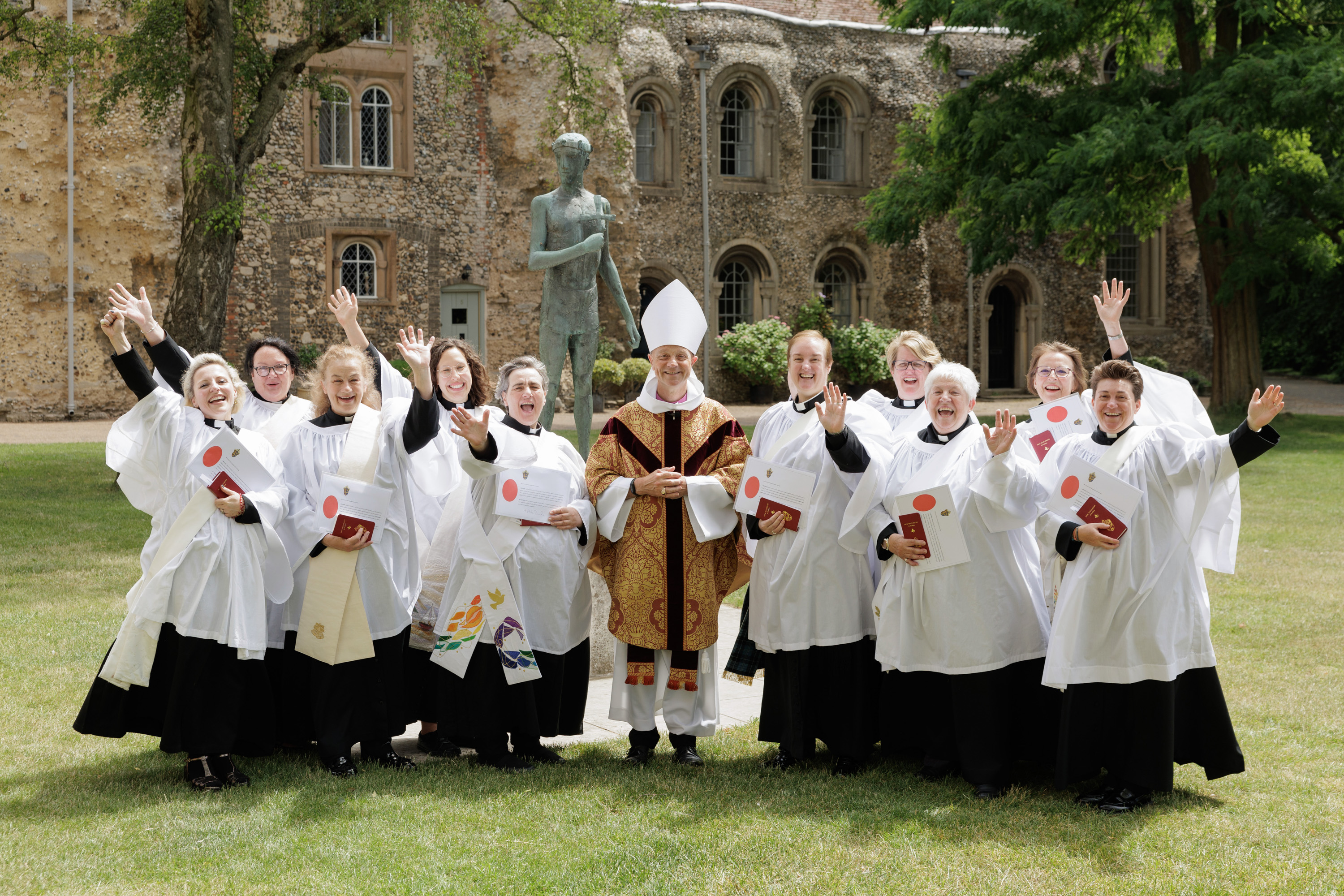 Bishop Mike, who ordained the deacons, said he is delighted to see callings to the ordained ministry increasing in Suffolk.
The Very Rev Joe Hawes, Dean of St Edmundsbury, added: "Ordination is always an inspiring occasion, and this was no different as we celebrated with joy those who have offered themselves and their futures to God and the Church in ministry.''
The new priests are: Catriona Brinkley, Elizabeth Fox, Diane Grano, Nicola Grieves, Sarah Gull, Helen Kerridge, Gail Minter, Clive Mobbs, Deborah Nicholls, Anita Rooney, Nunziata Sloan-Capasso, Melanie Takáč, Ricky Woodard.
The new deacons are: Mary Brown, who will serve the Benefice of Alde Sandlings; Sarah Hall, who will serve Ipswich St Augustine; Karen Smith, who will serve the Benefice of Stour Valley; Alexandra Taylor, who will serve the Benefice of Beccles with Worlingham, North Cove and Barnby; Joanna Gunn, who will serve Ipswich St Mary Le Tower; Sarah Lock, who will serve Rougham, Beyton with Hessett and Rushbrooke; Doreen Page, who will serve the Benefice of Beccles with Worlingham, North Cove and Barnby; Edith Peck, who will serve Framlingham with Saxtead; Lorna Penaluna, who will serve Ipswich St Matthew, Triangle and All Saints; Katherine Wilson, who will serve the Benefice of Wilford Peninsula and Lightwave Pioneer at The Place by the Water.
Photography by Keith Mindham.