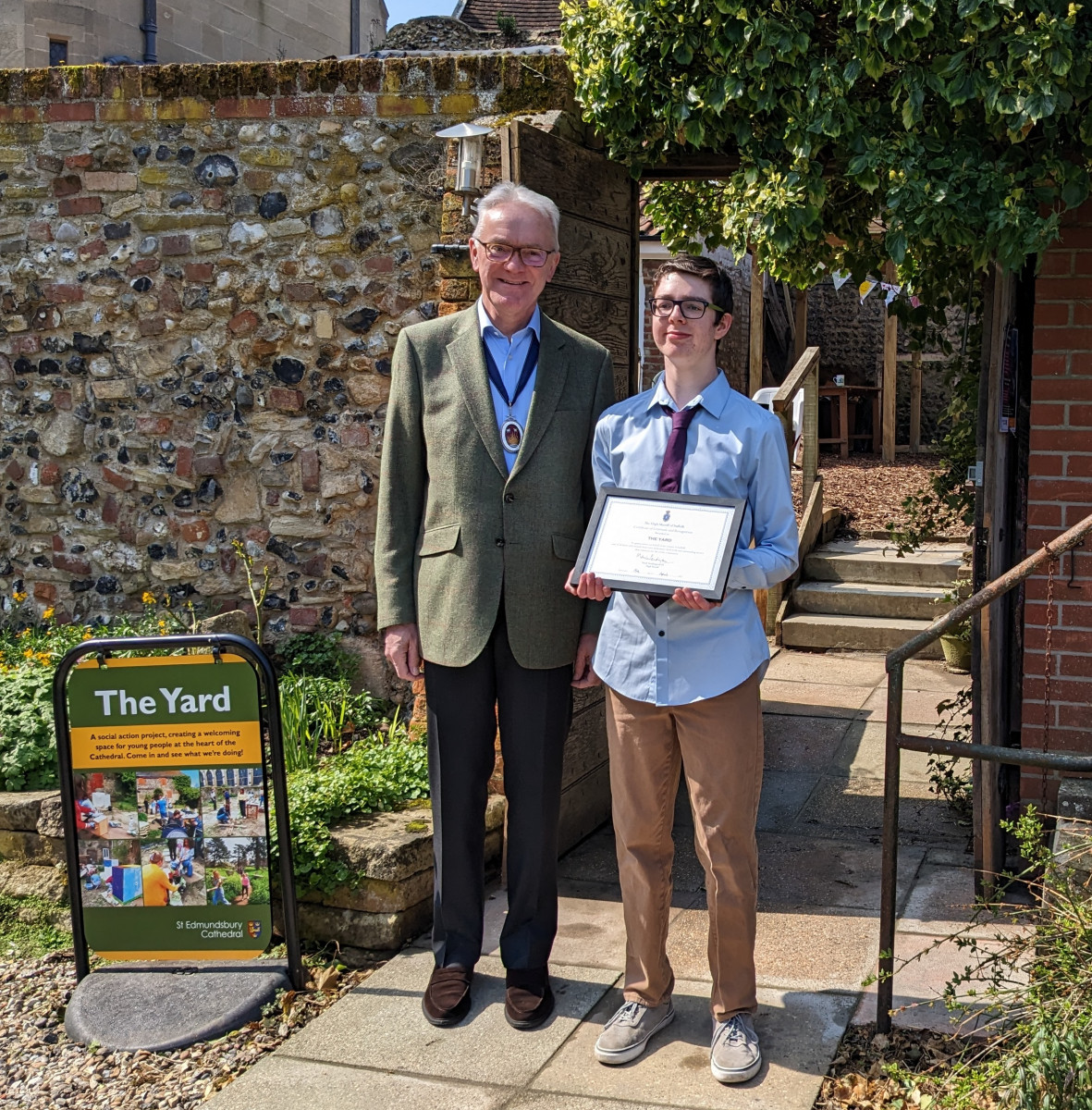 St Edmundsbury Cathedral held the official opening of its sustainability and youth project 'The Yard' on Saturday 15 April 2023. There was a ribbon cutting ceremony and The Yard was opened by Mark Pendlington, Suffolk's High Sheriff and the Senior Non-Executive Member of St Edmundsbury Cathedral's Chapter. He was assisted by Nathan Rance, an attendee of The Yard's holiday activities who has helped create features in the garden such as a bird table and bee house.
The event began with words from Jane Dow, Project Lead of The Yard, who then passed over to Nathan who told the attendees how much the yard means to him. Mark Pendlington then presented The Yard with a High Sherrif Award. High Sheriff's Awards are designed to reward the volunteers, charities and community groups in Suffolk who devote their time and energy to improve the communities in which they live and work, to make Suffolk a better and safer place.
The Very Revd Joe Hawes, Dean of St Edmundsbury Cathedral, said, "I am proud to celebrate the excellent work the Yard Project has been doing since it was launched last year, and in particular, the gently welcoming, reassuring, and sensitive presence of Jane Dow, the project worker. As the Project has begun to welcome young people to a space that is genuinely inclusive, healing and safe, we begin to see outcomes for them which include a marked improvement in mental health, growing confidence and engagement with good role models. At a time of real challenge to our young people, The Yard stands for something hopeful, life giving and inclusive. I am proud that St Edmundsbury Cathedral is committed to it."
The Yard is an area of the Cathedral that was previously left overgrown. It is being redeveloped as part of a social action project for young people. Funding from the Dulverton Trust in partnership with The Lottery Heritage Fund has made the project possible, with additional funding to sustain the project coming from Co-op Community Cares Fund, The Lord Belstead Charitable Settlement, The Suffolk Public Mental Health programme COVID Memorialisation grant, West Suffolk Council Locality budget, Sue and James Cockram and Holiday Activities & Food Programme, delivered through West Suffolk Council.
The project's aim is to create a dedicated place for young people in the Cathedral gardens and a space they can make their own. The Yard has been designed to offer a safe space where young people can come and spend time, learn new skills, meet new friends and improve their mental health, wellbeing and resilience.
The calm and peaceful location of the Yard, combined with small group sizes and a relaxed atmosphere that takes things at each young person's pace, has proved particularly positive for the young visitors. Feedback consistently shows that their wellbeing improves after time spent at The Yard. Responses to a wellbeing survey undertaken in summer 2022 showed that 80% of young people's mood and wellbeing increased after their visit and 20% showed no change but started with a 'really good' or 'fantastic' mood to begin with. Attendees are also seeing other benefits such as learning new skills, increased confidence and learning to make decisions.
St Edmundsbury Cathedral | Weblink