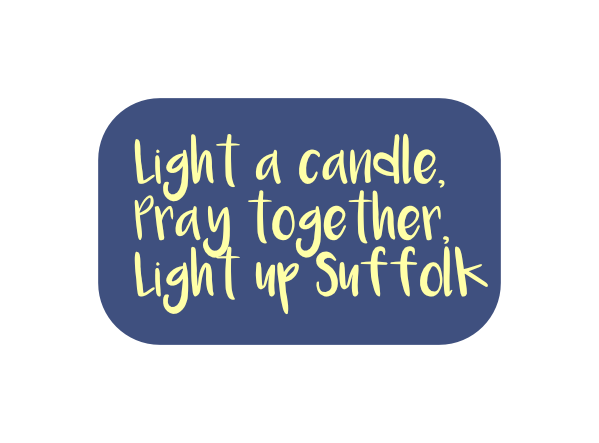 Christian church denominations will come together as part of Thy Kingdom Come, a global event from May 21-31. inviting every household in Suffolk to light a candle to celebrate a global wave of prayer.
The Lightwave community, led by Venerable Sally Gaze, the Archdeacon for Rural Mission, is coordinating the initiative across Suffolk. She said: "This year, the events that would normally be held cannot happen because of the coronavirus pandemic. It means that we have been able to make it much more open to everyone, not just our regular churchgoers. However, it means that we can use our online platforms to reach even more people. Particularly as the current situation has shown that there is a hunger for prayer. All Christian denominations have seen an increase in people joining in virtual prayer meetings and from those who wouldn't normally take part."
It comes following recent research from Tearfund revealed that one in 20 adults in the UK have turned to prayer during the coronavirus pandemic.
Archdeacon Sally, also a canon at St Edmundsbury Cathedral, added: "As part of the event here in Suffolk, we have created Light Up Suffolk with the aim of encouraging everyone to light a candle in their window and say a short prayer for their family or community. Wouldn't it be great if lots of people have a candle in their window throughout the 10 days of Thy Kingdom Come?"
For children, parents can download a rainbow candle poster for them to colour in and place in their windows.
"Rainbows are a sign of hope for people," Archdeacon Sally added. "It's encouraging for people to see and know that they have friends and neighbours who are taking part in Light Up Suffolk."
Many churches across Suffolk including the Diocese of St Edmundsbury and Ipswich, Roman Catholic, Baptist, Methodist, Salvation Army, Elim, New Frontiers and The Forge, are taking part.
People are also being encouraged to sign up to a 24.7, unbroken prayer marathon from Sunday, May 24, until Pentecost Sunday on May 31.
Archdeacon Sally said: "We have had lots of people sign up to take an hour's slot already. The kindness of people has shone throughout this pandemic. There is a desire for prayer connection with neighbours and to be kind and help each other. It has reminded us of what is really important in life. The prayer marathon has come at a time in the last week of May which is proving to be a transitional phase with a lot of uncertainty. So, it's an ideal time to be engaging in prayer as people move into the unknown as lockdown eases."
Captain Andrew Jarrold, of the Salvation Army who represents Churches Together in Suffolk, said: "This year's Thy Kingdom Come is very exciting. It's wonderful to see the different churches across Suffolk coming together to pray; something that is particularly pertinent to help us through the current crisis."
Thy Kingdom Come is a global wave of prayer calling all Christians to pray between Ascension and Pentecost between May 21-31. It was launched by the Archbishops of Canterbury and York in 2016.
For more information and to take part, please visit the website www.light-wave.org.
Supported by:
Bishop Martin Seeley - Diocese of St Edmundsbury and Ipswich
Canon David Bagstaff -Vicar General, Roman Catholic Diocese of East Anglia
Major Derek Jones -Divisional Commander, Anglia Division, The Salvation Army
Tom Scrivens - Lead Pastor, Hope Church Ipswich
Revd Graeme Ross - Regional Minister, Eastern Baptist Association
Revd Paul Whittle - Moderator, Eastern Synod of the United Reformed Church
Revd Canon Julian M. Pursehouse - East Anglia Methodist District Chair
Pastor Harold Afflu - Senior Pastor, Ipswich International Church
Mrs Liz Beaton- Ipswich in Prayer
Captain Andrew Jarrold - Churches Together in Suffolk
Friday 15th May 2020