After a series of delays, we were delighted that Bishop Godfrey Mbelwa, Bishop Vithalis Yusuph and his wife Monica arrived in Suffolk. They have arrived in advance of the Lambeth Conference which will be held on 26 July to 8 August 2022.
The welcoming team led by Bishop Martin and hosts Chris and Anji Dawkins, the Revd Eric Falla and Marion and Martin Gray are supporting the group as they tour our county and beyond.
Visit to Capel St Mary schools
Bishop Godfrey from the diocese of Lweru joined the Revd Sally Letman in Capel St Mary along with hosts Chris and Anji Dawkins and the Revd Eric Falla.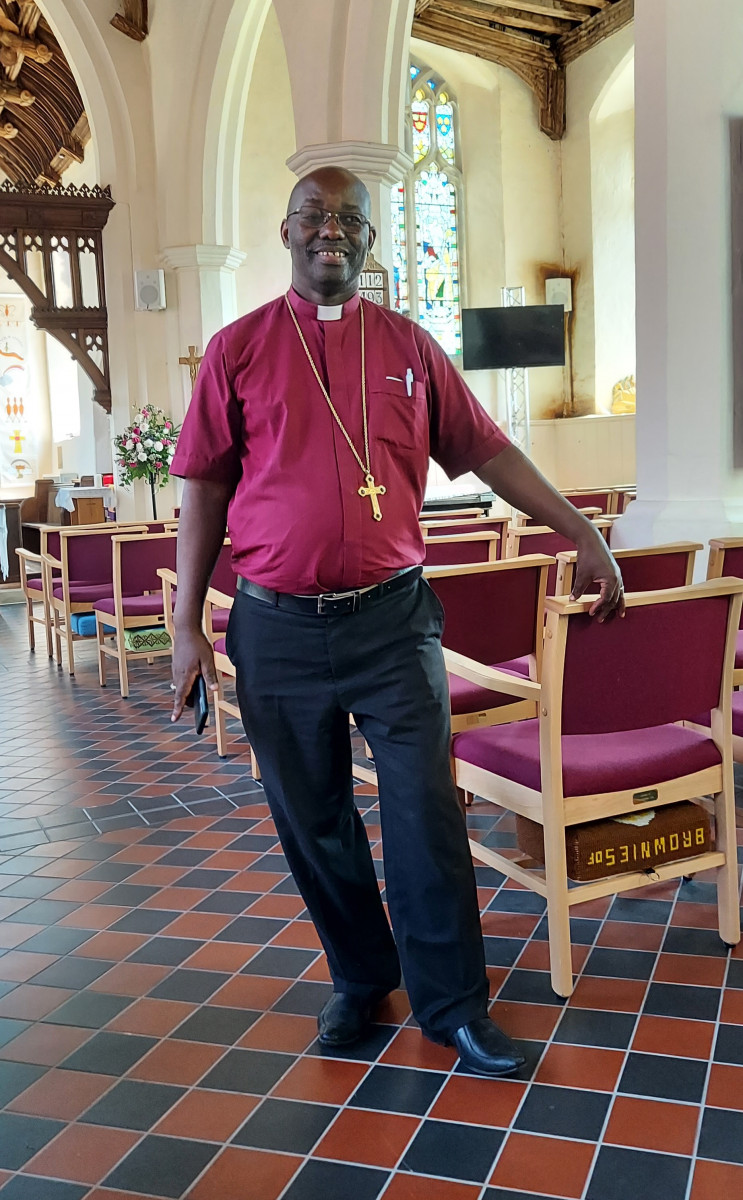 The visit started in the cool of St Mary's Church where Bishop Godfrey admired the chairs and took photographs so he could ask a local carpenter to make some on his return home.
Bishop Godfrey visited Stutton CofE Primary School. During the assembly the children showed him some of the work they had done preparing for his visit, including a colourful kanga (African cloth) they had decorated. Bishop Godfrey demonstrated to them how Tanzanian children use a kanga on their head to help balance a bucket full of water they have collected from the well.
Later in the afternoon, arriving at Capel St Mary CEVA Primary School, Bishop Godfrey was overwhelmed by the wonderful school facilities as he compared the class sizes of 23 with the typical 100 per class in his own country.
The school assembly was held under the cool of the trees and the service was led by Anji Dawkins who held a questions and answer session with the Bishop. The bishop demonstrated how women would walk every day with their babies strapped to their backs, walking five miles to get water and return to their village with the water in a bucket balanced on their heads.
Sally Letman said "It was a joy to see how the children responded to the challenges so vividly and clearly shared by Bishop Godfrey. The conversations bought to life the wider world and relevance of God's Creation but also highlighted the differences. Today's visit really did enable the children to understand how resources are not shared out equally in our world"
The school's motto from Matthew 13, verses 31 to 35 is 'With faith as small as a mustard seed, you can move mountains.' with this in mind the school has committed to launch a link with a local school in Tanzania and to raising funds for their school books.
The Lambeth Conference 2022
Convened by The Archbishop of Canterbury, the Lambeth Conference is a gathering of bishops from across the Anglican Communion for prayer and reflection, fellowship and dialogue on church and world affairs. With the theme of 'God's Church for God's World - walking, listening and witnessing together,' the conference will explore what it means for the Anglican Communion to be responsive to the needs of a 21st Century world.
For further details
Kagera Link Diocese | Weblink