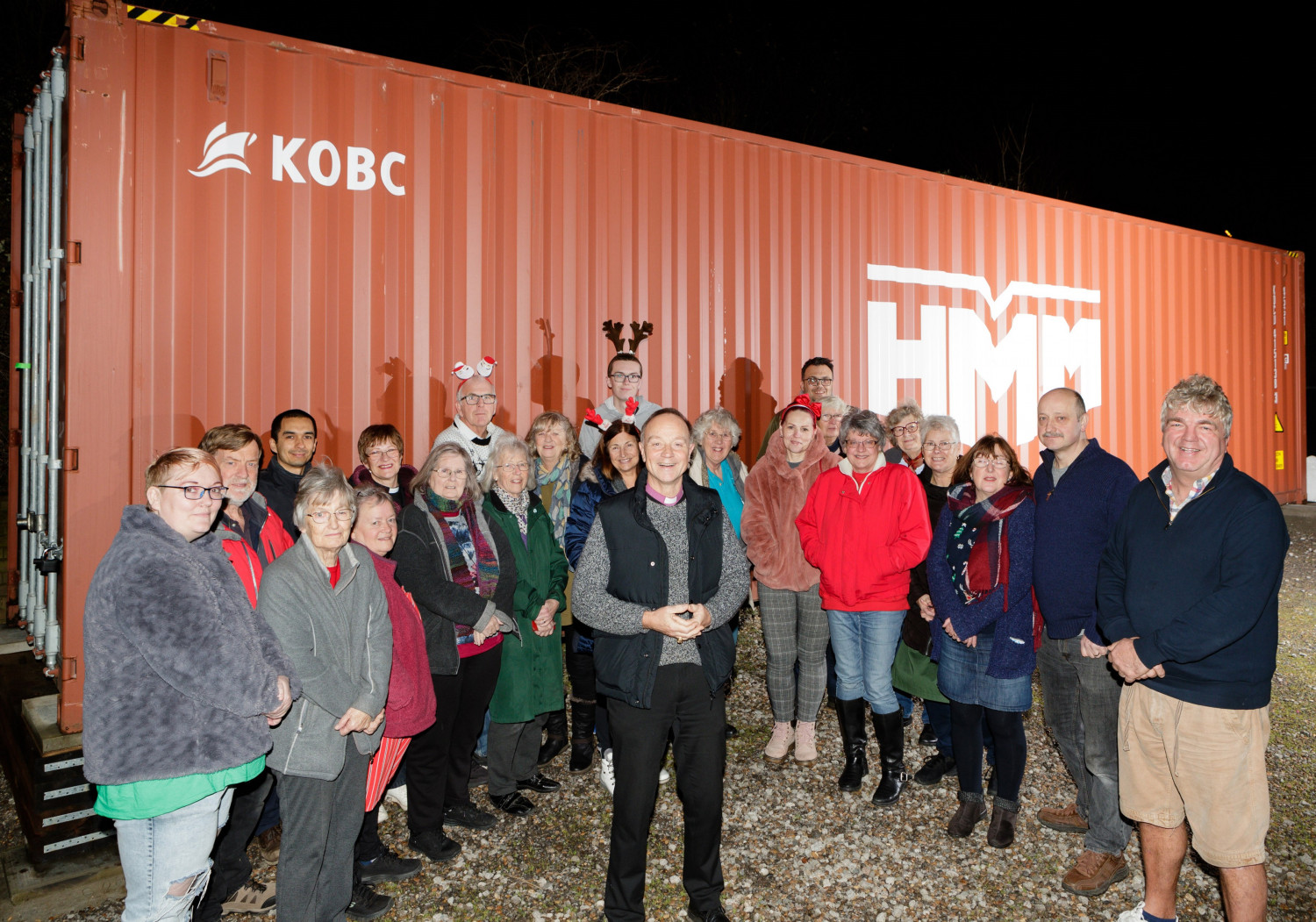 Demand soars for pop-up shop with residents queuing for hours to obtain food
People in need are queuing for more than two hours to ensure they can get food and other vital household provisions from a pop-up shop.
The Manna shop at Christ Church, Grange Farm Avenue, Felixstowe, has become so popular that it now requires 40 volunteers to run the fortnightly facility. A 40-foot shipping container to hold all the products has arrived at the church as demand continues to soar. People of all ages will queue for up to 2.5 hours to then give just £2 to fill a bag with items from 15 tables. Bishop Mike visited the initiative and blessed the container on Monday 19 December.
Bishop Mike said: ''For many people the queue is actually part of the experience and it provides some social interaction which is so important, particularly in these dark winter months. There was a great festive atmosphere - but the reality is that this shop illustrates a need within the community for residents who are finding it difficult to make ends meet during the cost of living crisis. Here here we have another local church making a difference and supporting their community.''
The number of users has steadily increased from 14 in August 2020 to 128 at a 75-minute session earlier this month. Shop organiser Mark Adams said they were indebted to the goodwill of shops in the Felixstowe area who donate products.
'We need to insulate the container, put up shelves, install lighting and power and we require a ramp. Everyone has been so helpful and we thank HMM (Europe) Ltd for the gift of the container, CP Transport for the delivery and offloading the container for no charge".
"There's a Port Community Fund grant of £2,000 for fitting out the container, a Centenary Fund grant of £3,000 for fitting out the container, Felixstowe Town Council has also given £1,000 for the container and then a £200 contribution for each of eight sessions of the shop. And Felixstowe Rotary Club donated £300 towards the Manna Christmas special,'' said Mr Adams.
The shop next opens on Monday 2 January from 6.00pm to 7.15pm.