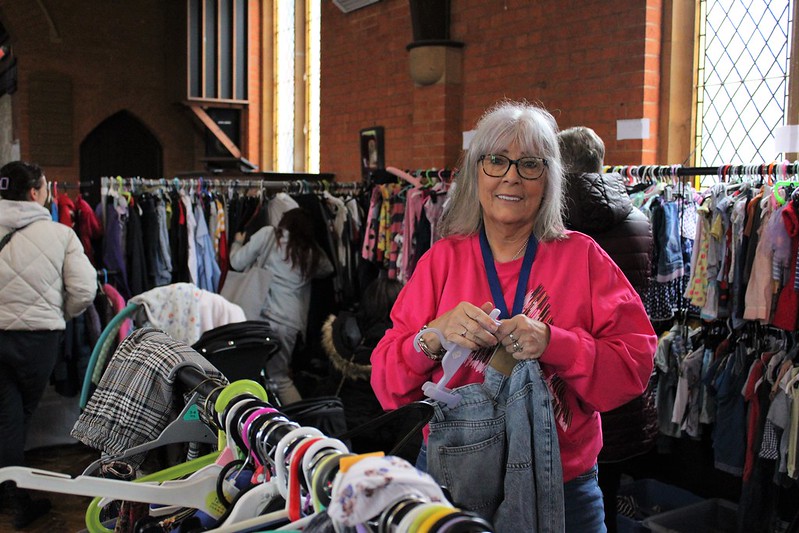 A Suffolk parish's bring and share scheme has given away almost £750,000 in baby and children's clothes and equipment since it was launched just three years ago.
Rev Andrew Dotchin and his army of volunteers set up the Pushchair Pitstop at St Edmunds Church in Felixstowe just before lockdown in 2020 to help families through difficult times. Families are invited to donate unwanted baby and children's clothing when they attend - as well as items such as buggies, highchairs, bottles, toys and bikes - and to take any items they need themselves.
Rev Dotchin said: "We started the Pushchair Pitstop just before lockdown once a month so parents can swap and share their children's clothing.
"Then during lockdown the government closed all the charity shops. Our vision was to create our own church giveaway shop and since lockdown ended the pitstop has just got busier and busier. I think we have given away almost £750,000 of kit over the last three years."
Not only does the Pushchair Pitstop provide a friendly place to pick up clothing and equipment for children, it also acts as a community hub – a place to drop by for a cup of tea and a chat.
"We now have three pitstops during the week and another at the weekend with 27 wonderful volunteers who come in to help run it," said Rev Dotchin.
"They are amazing, we couldn't do it without them. People coming to see us are not obliged at all to make a donation - you don't have to bring something to take something. The Pushchair Pitstop is a brilliant example of faith in action."
Meanwhile, the Parish of Felixstowe has been running its hugely successful Parish Pantry scheme at St John's the Baptist Church, a top-up shop where people in need can come and pick up free food and produce.
Rev Dotchin said: "The Parish Pantry is at St John's – that is open every day of the year, all day. Sadly, most of the food goes in the first two hours but if someone is really struggling, we can arrange a Morrison's voucher. We have recently moved some of the parish pantry down here to St Edmund's Church as it complements the Pushchair Pitstop - people can take food as well as the baby equipment and clothing."
For more information on the Pushchair Pitstop please visit www.facebook.com/felixparishpitstop