Together St Eds and Ips raised the magnificent sum of £45,000 in 2021. Thank you so much to all who worked so hard to support our brothers and sisters in Kagera. Here's how your support helped.
You helped subsistence farmers survive the climate emergency
The Church and Community Mobilisation Process (CCMP) changes mindsets. It gives people the skills and motivation to become self-sufficient and lift themselves out of poverty.
Subsistence farmers have been taught to:
diversify and plant new crops
plant drought-tolerant varieties
cultivate in ways to make the most of limited rain
build rainwater tanks using local materials
diversify into other activities like animal husbandry and beekeeping
With money from the last Lent appeal, CCMP has:
empowered 18 trainers to broaden the reach of CCMP to neighbouring villages
established 12 tree nurseries across the diocese to provide avocado and other fruit seedlings as well as saplings for wood. They have also provided other materials to farmers and communities
helped build 25 rainwater tanks
supplied 60 foot operated water pumps to individuals and groups
established poultry and pig breeding with four groups
bought and distributed 100 pigs and 500 chickens – the main beneficiaries being widows
bought and distributed beehives to 21 community groups
The generosity of the people of St Eds and Ips has funded the work of CCMP in Kagera since 2017. With your help CCMP can continue to transform lives. Over the next year:
follow up training and monitoring will continue in many communities
CCMP training will be taken to 6 more new communities
five new tree nurseries will be established
20 more water tanks will be built
many more foot pumps will be distributed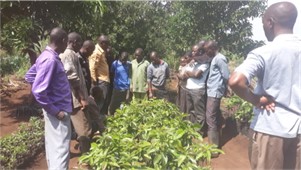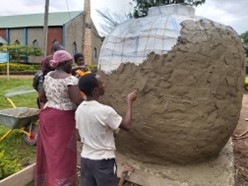 You helped the Diocesan Hospital provide more specialist treatments and secure its future.
Murgwanza Hospital was established by the Diocese of Kagera to bring vital healthcare to the people of the region. To secure its future, it needs to employ specialist doctors and become a referral hospital. With other funding partners, we are enabling Murgwanza hospital to travel towards that goal.
With money from the 2021 Lent Appeal, we were able to sponsor training in surgery for Dr Christian Ruzige, and also to purchase specialist equipment, including a new operating table.
Dr Christian has now returned to Murgwanza, where he'll be able to perform 60 operations every month, as well as undertaking outreach work in villages to spread awareness of what can be achieved locally.
Murgwanza Hospital is owned by The Anglican Church of Tanzania, Diocese of Kagera and is situated in Ngara District which has a population of just over 402,000 people. It was started by
CMS Missionaries as a small dispensary in the 1930's and has grown to become a hospital with a 210 bed capacity.
The nearest hospital providing specialised services is 400 kms away from Murgwanza, which results in many people being unable to access lifesaving treatment. Murgwanza Hospital is seeking to increase its capabilities in all medical specialisms. WIth your support, more specialists are being trained to provide quality healthcare to the people of Ngara and surrounding districts, including people from neighbouring countries, Burundi and Rwanda.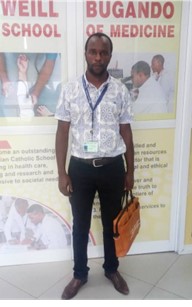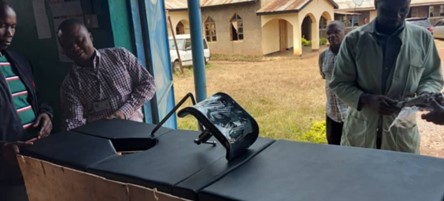 You helped priests lead their people out of poverty.
In Kagera priests and evangelists lead their people not only spiritually but in practical ways.
Kagera Christian Theological College, KCTC, provides a sound theological education. It also works closely with CCMP to give training and experience in practical skills, including new cultivation and irrigation methods, honey harvesting and animal husbandry.
With money from the 2021 Lent appeal we continued to support KCTC by funding student bursaries and staff salaries as well as development and refurbishment work. We also supported the purchase of 16 motorbikes to enable priests to travel the huge distances round their parishes, to spend more time working and less time walking.