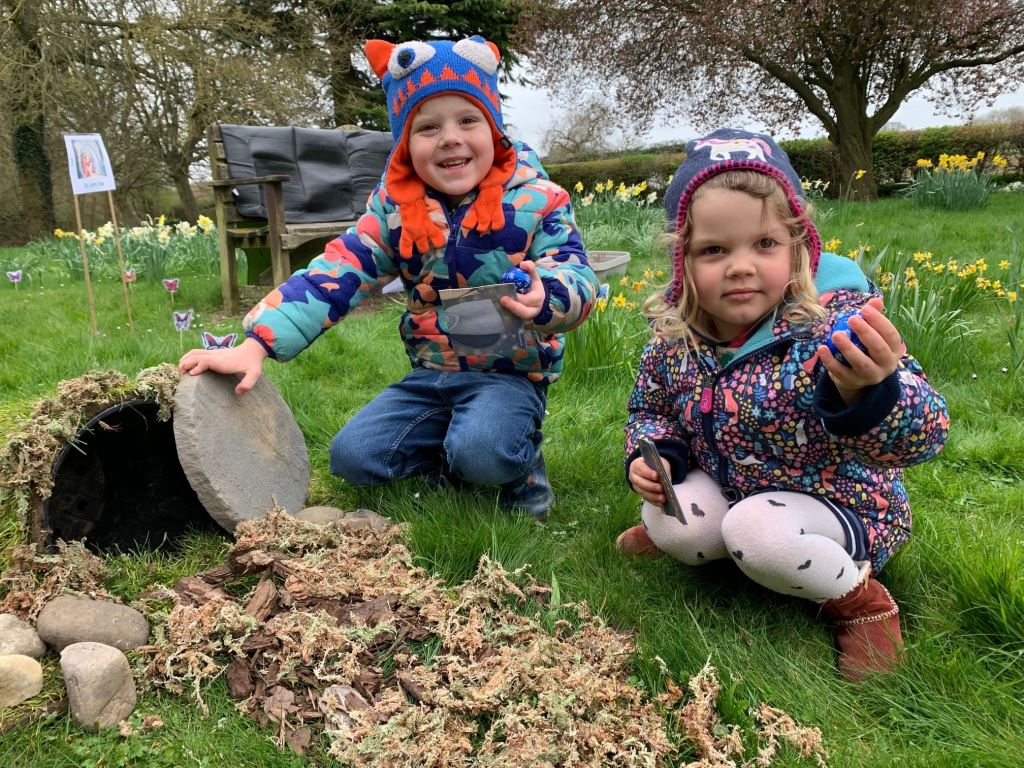 The Footsteps through Easter event in Barrow proved to be a fantastic learning event for families across the Thingoe deanery, made possible by the Growing in God funding grant.
The initiative built on an earlier project which was undertaken during Advent where families were encouraged to search for story posters relating to the story of the nativity. The Footsteps theme worked well and was kept up so people would begin to make the connections. Easter provided an excellent reason to continue with Footsteps and thus it was decided to run this event across three out of five parishes in the benefice, with some modification depending on location. The main event was in Barrow and commenced at the village school approximately half a mile away from the church. Families were booked in and each collected a goodie bag from the attendants manning the school, then followed the trail of markers along the road showing them the way to the Easter story.
Starting at the school was important as it was a place familiar for the families. They were encouraged to journey through the story of holy week waving palms as they searched for donkeys and footsteps on the road to the church. In the churchyard they encountered the Garden of Gethsemane and planted prayers, at Cross Hill, they decorated carboard crosses and heard the story of Good Friday and then finally visited the Easter Garden to find the empty tomb and discover the meaning of a hollow egg!
A total of 14 families; of which included 26 children and 19 adults at Barrow: 3 adults and 3 children at Risby and around 7 people at Great Saxham, attended the event.
It is hoped that the parish will be able to continue with at least two or three outreach projects a year and will be building on the Footsteps theme further. As lockdown restrictions subside, the next outreach initiative has potential to be even bigger, and reach and engage even more people in the community.